Course 3: History and Culture of Cacao
This course is a deep dive into the important and hard-to-look-at context of the history of cacao and the impact that western contact has had on the peoples of what is now known as Latin America.We explore how ceremonial cacao is a vessel for healing the exploitative commodity cacao industry, and explore three case studies of how colonization has impacted Brazil, Colombia, and Guatemala .
We address our western cultural void and how cacao can be a vehicle for decolonizing & creating a new culture that we so desperately need. We take an honest look at cultural appropriation conversations and call out culture and provide personal examples and guidance on how to navigate these with a lens of emotional responsibility and accountability.
You will leave this course with a new perspective, and context for how ceremonial cacao is initiating an important shift for our society and our culture. We recommend this course to chocolate lovers and cacao ceremony facilitators everywhere - to truly be a cacao steward and in right relationship with cacao, we need to know and speak to the true roots of this medicine that is beloved to so many around the globe. 
The Details
When you sign up for class you will receive an email with the link to join the private social network, where all materials & class recordings live. You will have lifetime access and can re-watch the videos as often as you'd like.
You will receive supplemental reading to prepare for the class. This includes a supplemental video that while optional will deepen your experience of the course.
You will receive "love-work" journaling prompts to follow up and integrate the course material. The material in this course is particularly impactful and transformative ... be prepared to spend extra time on the integration of this course material.
You can ask questions about the course material and interact with us directly via direct chat through our course network.
Course Overview
Class
 One - Reality Check & History of Cacao
Evolution and Genetics
Early Cultivation and Human Use
Olmec, Mayan, and Aztec Use of Cacao
Western Contact with Cacao and Colonization of Central + South America


Class
 Two - Where Are We Now?
Present Day Commodity Cacao Conditions in Africa and Beyond
Cacao Revival and What is Needed for Decolonization
Decolonization Case Studies: Brazil, Guatemala, and Uruguay


Class Three - How To Decolonize Cacao 
What Is Cacao Ceremony, Really?
Filling The Western Cultural Void // Ancestral Lineage Work
The Importance of Authenticity
Cultural Appropriation Case Studies
Tools For Navigating Call-outs Including Self Care & Accountability Practices.
How to Lovingly Invite People Into Decolonization Discussions
Did You Know We Have More Online Classes?
We have broken down our two big courses into six smaller classes, to offer a self-guided learning journey through the topics that you're most interested in. These classes can be taken in any order, and you can see the entire list here. They are listed in order from beginner (cacao health & embodiment 101) to advanced topics (cacao ceremony facilitation) so if you are interested in receiving a comprehensive education around ceremonial cacao we recommend starting from the top and working your way through.
Yet, our intention is to make the courses accessible for those who want to pick and choose the areas they are most interested in, as well as provide the comprehensive course option for those that want it.
*If you want a comprehensive cacao education you can sign up for all six courses and receive $97 off here!*
Your Guides
Jonas Ketterle
After first encountering chocolate making with a Zapotec elder in Oaxaca Mexico in 2012, Jonas founded Firefly Chocolate in 2014, with the mission of inspiring awe and wonder through cacao. As his third entrepreneurial venture and his first at the helm, starting a business was a big initiation. Building a modern chocolate factory to produce purely 100% ceremonial cacao took many years, and now Firefly has found its footing with a unique expertise as a leading supplier of ceremonial cacao in the US and internationally. Jonas loves that every day he shows up to work, he gets to work with cacao, and it is always teaching him. His favorite part about teaching these courses is that he gets to share that rich learning experience with you. 
Jonas goes by he/his, and he identifies as a first-generation American, having immigrated from Germany at 4 years old,  He grew up in Boston, land of the Massachusetts people, and lives in Northern California, occupied land of the Nisenan people.
Sena Shellenberger 
Sena worked at Google pioneering their hardware projects for 5 years before discovering cacao in a ceremony in Mexico in 2015. She eventually left her corporate job which led to travels in Peru, Costa Rica, Guatemala, and Belize to deepen her connection with cacao. She joined the Firefly team in 2018 after teaching many about ceremonial cacao through her online courses and in addition to her marketing support for Firefly, continues to lead ceremonies, retreats, and workshops on cacao stewardship.
Sena goes by she/hers, and identifies as half-Mexican and half-European. She grew up in the land of the Dakota Sioux, now called Minnesota, and lives in Northern California, occupied land of the Nisenan people. 
Testimonials
THE COURSE WAS SO LIFE CHANGING. IT WAS SO MUCH MORE THAN I EXPECTED. ~ Crystal
The course was so life changing. It was so much more than I expected. My intention was to take the class as a way to develop z spiritual practice. All the "spiritual" practices in the past never felt right for me. Cacao makes me feel so connected, makes me heart so open and big. She begs for me to share her with others. As I sit with what I have learned and am still learning I have a great desire to become a ceremonial cacao facilitator for my community. Fargo needs this! I also have changed my primary beverage of the morning to cacao instead of coffee. Realizing now the janky, anxiety ridden vibes of coffee I've been allowing all these years where why I didn't feel good. Ufta! But mama cacao makes me feel so good and energetic without ever dropping a beat. Those heart vibes are so real and big. Thank you a million times over to you both... Jonas and Sena. Now if we can have a sustainable way for everyone to drink cacao everyday and spread the good vibes. Cacao can and will surely change the world.
HIGHLY, HIGHLY RECOMMEND EXPERIENCING AND LEARNING FROM THIS CLASS. ~ Michelle
When I first saw Firefly Chocolate's announcement of their "Meet Cacao" course I didn't hesitate to sign up, and I'm so glad I did! Such thoughtful presentation of topics, so knowledgeable of the cultural history, literally all things cacao, nutritionally, farm to disc, ceremonial cacao, and so much more flowed so generously throughout this course. Jonas and Sena are a wonderful team of knowledge, a great balance, and beautiful space holders. This course exceeded my expectations and for me was the perfect balance between cacao facts, nutrition, history, also their farmers and standards (all wrapped around handling this plant as living medicine, a sacred being-and bean!), as well as the spiritual side of cacao, ritual and ceremony, the sacred plant medicine. Highly, highly recommend experiencing and learning from this class. You will connect with great people, you will love working with cacao. I learned so much about the plant and myself, which is a continuing experience as I grow in this journey with Mama Cacao. So much gratitude for Jonas and Sena, their tremendous knowledge and respect, and the lovely space they create for this special class.
All the best to you both, thank you again! I can't wait to take the Stewardship/Facilitator course, just wasn't meant to be this time around--but hopefully next time! See you in the chats and on social media LOL!
SOMETHING QUITE SPECIAL. ~ Marty
My experience of the course was not like I imagined it to be. First off, equal attention was given to both heart time and brain time; and they were woven together seamlessly. While there was significant information about all aspects of Cacao, it was delivered in a heart full connected way, and rather than just receiving data points, I had the full experience of what I was learning. I am all in for the next level of Steward the Medicine while insights resulting from my personal Cacao ritual continue to enrich and inform. Kudos to Jonas and Sena for creating something quite special.
I WAS ABSOLUTELY BLOWN AWAY... THIS COURSE TRULY EXCEEDED MY EVERY EXPECTATION! ~ Lyndsay
I signed up for Meet Cacao simply wanting to gather more information for myself on the medicinal and physical benefits that I felt were beginning to transpire for me in my month of drinking Firefly Chocolate. I was absolutely blown away after the very first class with the depth of information and education that the course provided and the honesty and candor with which Jonas and Sena presented everything. Each class continued to inspire my curiosity about Ceremonial Cacao and the benefit of participating live when I could was also a wonderful surprise gift of community! My only wish was that the course was spread over 6 weeks with one class a week instead of two so that I would have had more time to steep in the information I collected from each class and allow it to more fully integrate before even more interesting information was presented. This course truly exceeded my every expectation! I feel much more able to speak about cacao to friends and family with this foundational information to build upon. Thank you for this offering and for sharing your knowledge with the world! Mama Cacao is working her magic through you and Firefly Chocolate!
FASCINATING & DIGESTIBLE! ~ Liz
I had been working with Cacao a few months before I joined the introductory Meet Cacao course with Firefly Chocolate. All that I had experienced personally up until that point, I still only had a small understanding of the cultural history, cultivation, and social impact of ceremonial-grade cacao. Jonas and Sena have broken all this down into fascinating, digestible details, from their tremendous experience and research, truly honoring the long history of the cacao plant in nature and in culture. Each lesson expanded my relationship with Cacao, as well as my inner-self, and introduced me to a beautiful community full of passionate, wonderful people who are all just as dedicated to Cacao as I am! This is a unique, interactive course that perfectly weaves education, guidance, and hands-on exercise, creating leadership and integrity in the practice of working with Cacao. 
Regular price

Sale price

$273.00

Unit price

per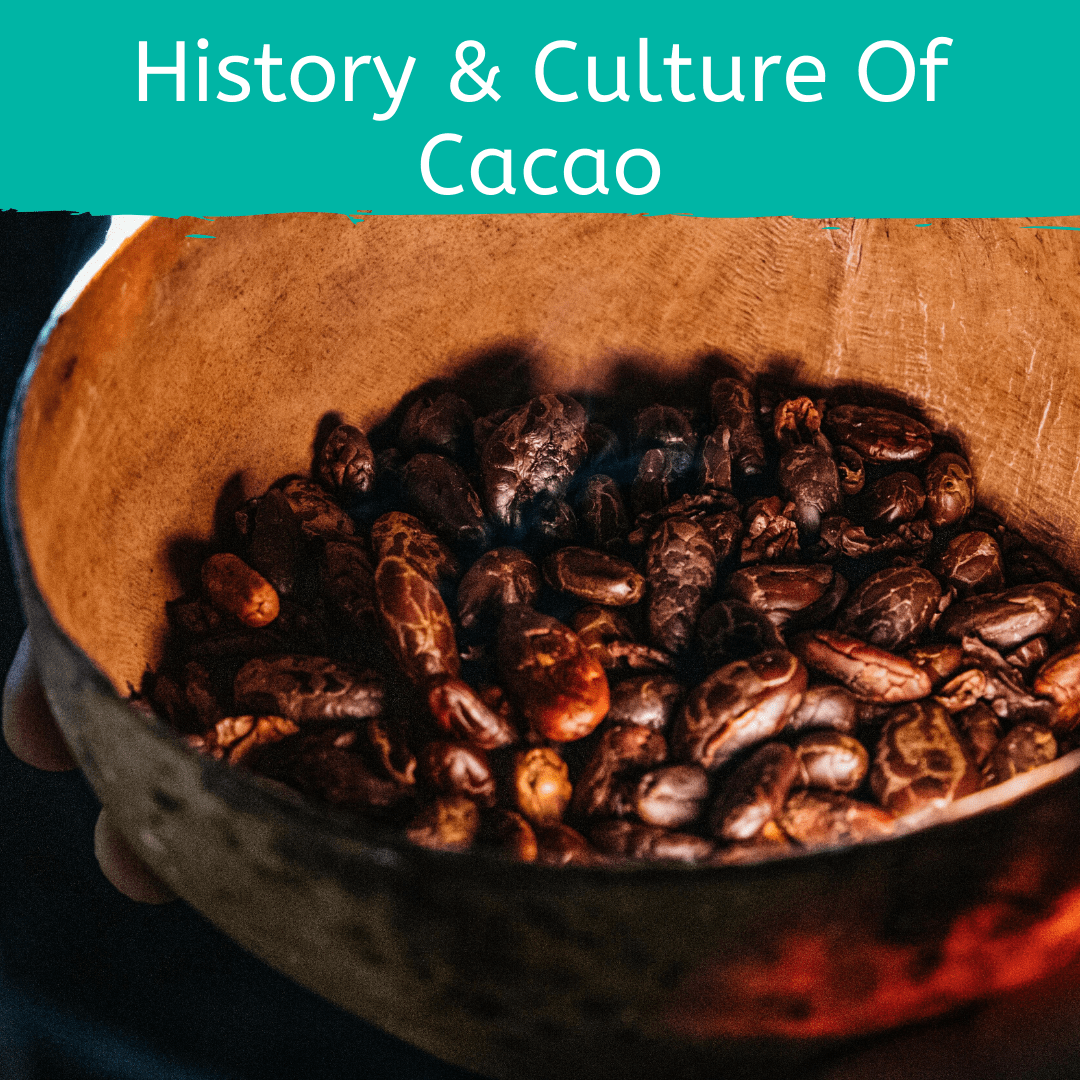 Pure 100% Ceremonial Cacao
Enhanced 100% Ceremonial Cacao