Mystical Mushroom
Activate your highest potential and find optimal health as this deeply medicinal blend of mushrooms gives a boost to your body and spirit.
Our friends in this blend include reishi, chaga, turkey tail, lion's mane, cordyceps, maitake, shiitake, oyster, poria, phellinus, and tremella. Our mushrooms are 1:1 water extracted from the fruiting body only for highest medicinal content, and triple lab tested for purity and safety. That means no grains or fillers involved and completely gluten free. The mushroom themselves are grown on buried wooden logs in hoop houses to mimic a natural environment, not in laboratories. We're sure you'll love it ... the taste is more like an earthy cacao than of mushrooms!
Ingredients
Cacao Beans from Belize, Reishi, Chaga, Turkey Tail, Lion's Mane, Cordyceps, Maitake, Shiitake, Oyster, Poria, Phellinus, and Tremella
Mood
Calming, Nourishing, Grounding
Best For
Immune Support and Healing
Flavor Profile

Stone, Oak, Brie (these are tasting notes, not ingredients)
VOLUME DISCOUNTS
Mix & match any of our cacaos. Automatic discounts applied in cart for 3 or more one pound bags or 2 or more five pound bags.
Contains 20 servings, $2.50 per serving
Regular price

Sale price

$50.00

Unit price

per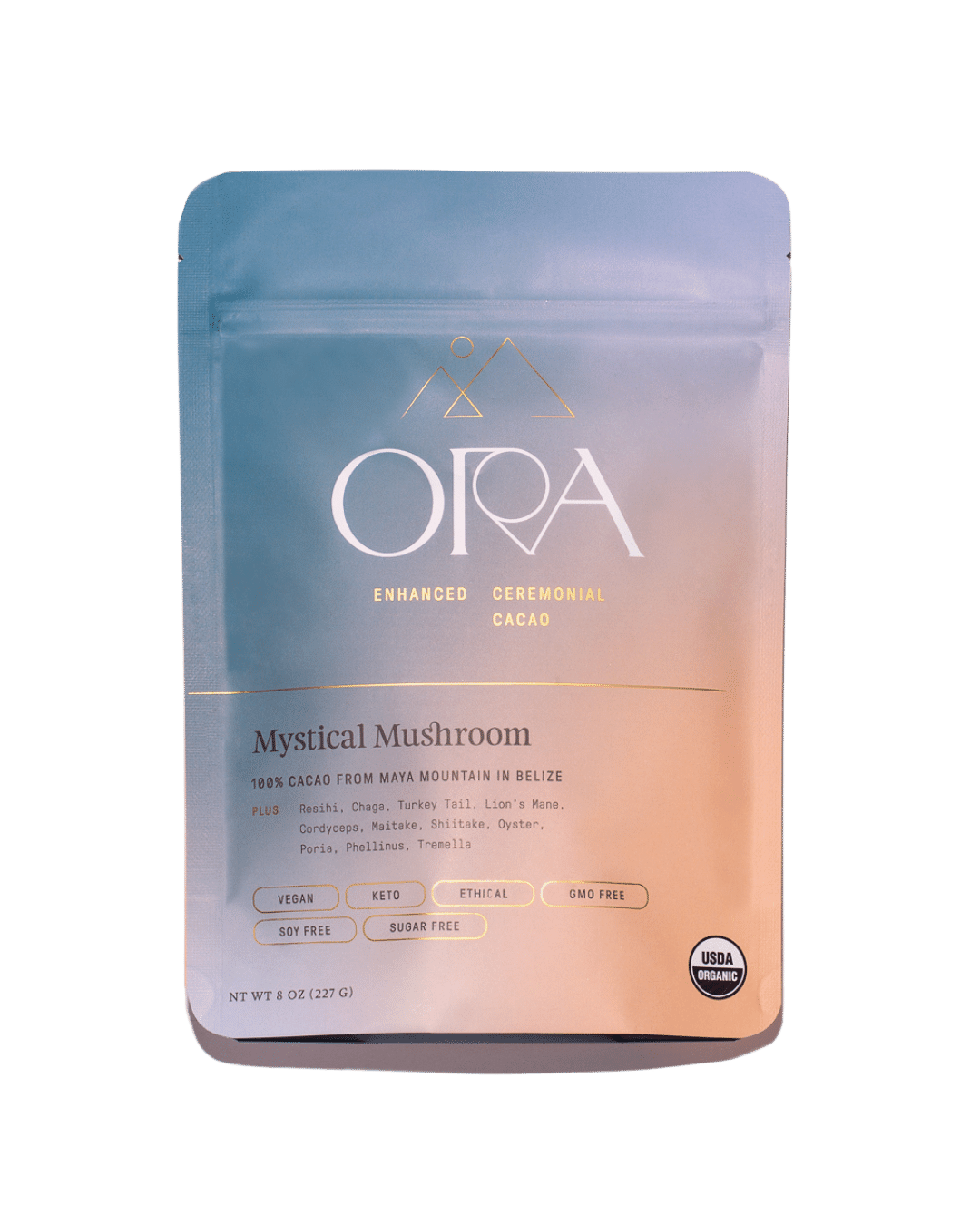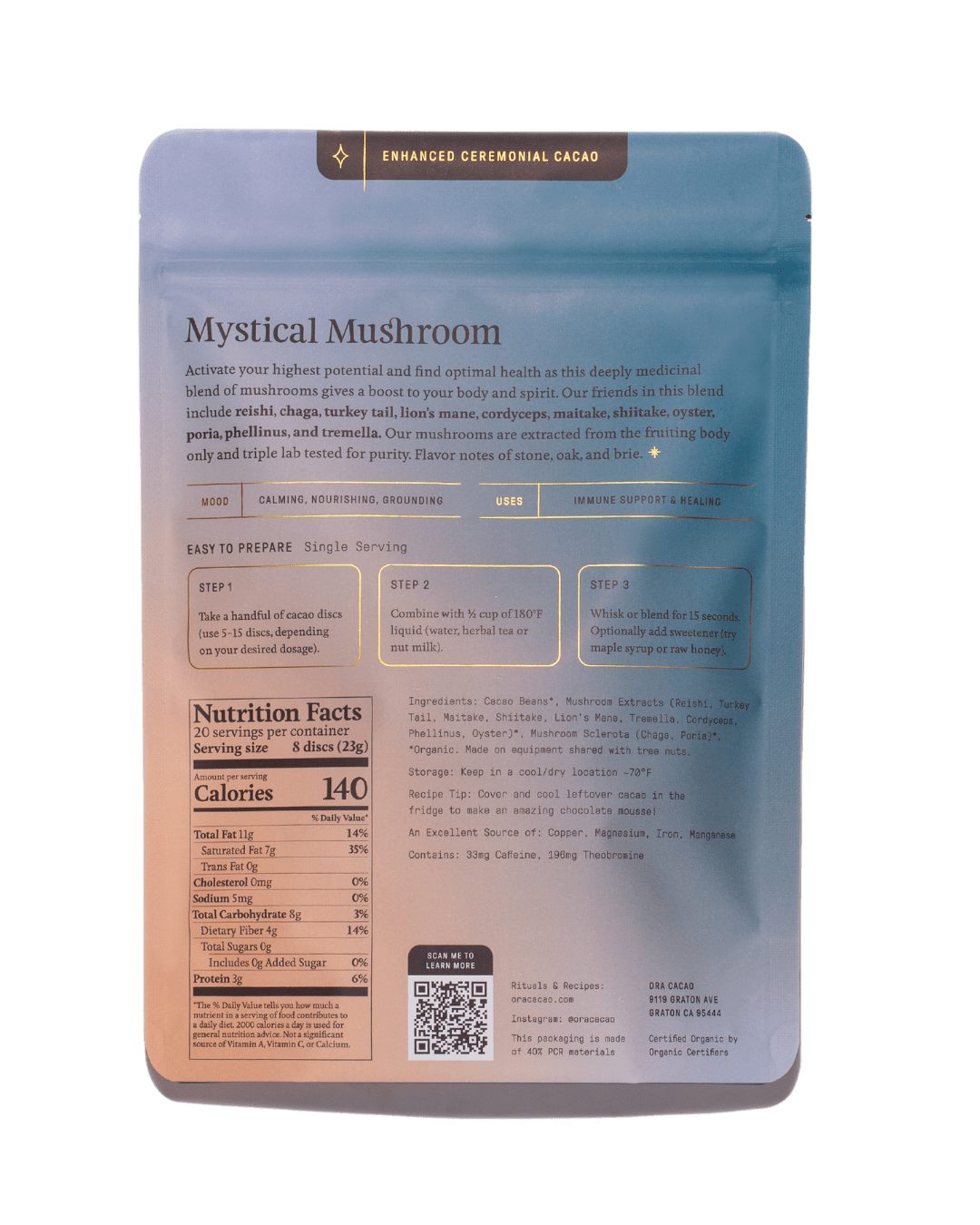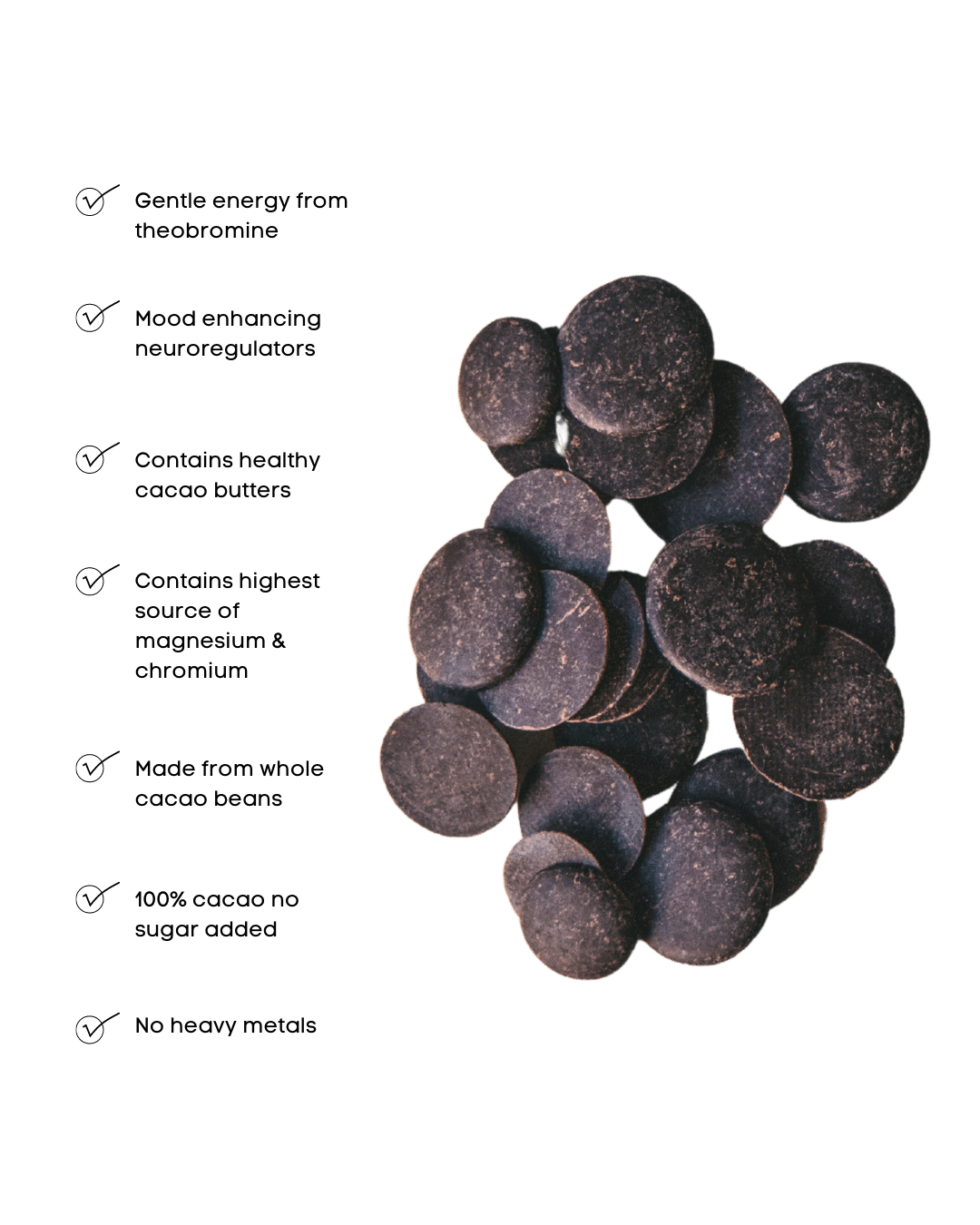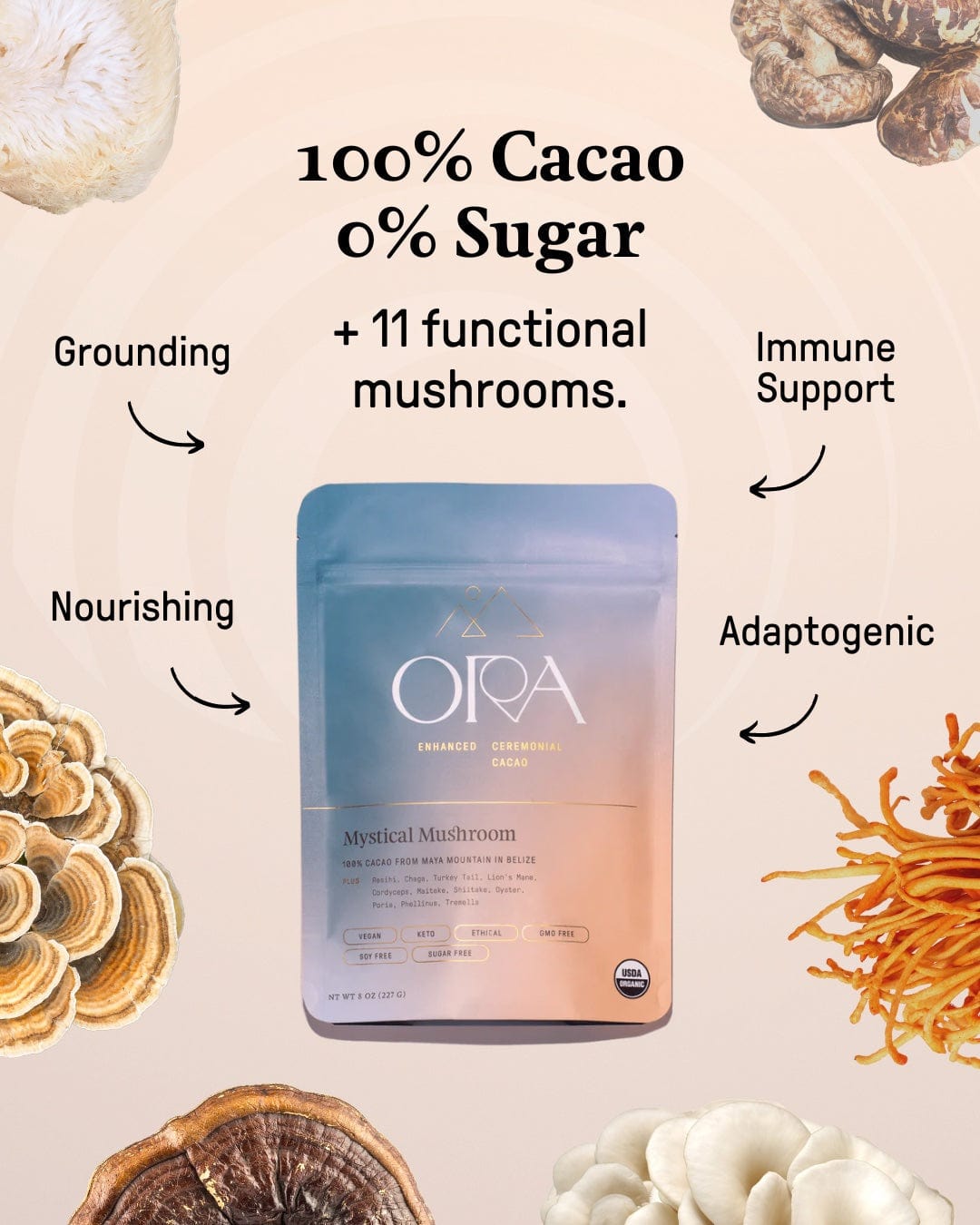 Ingredients
FRUITING BODY ONLY
We only use fruiting body mushrooms, a rarity in the US. When people commonly say the word "mushroom", they are referring to the fruiting body of the basidiomycete organism. This organism also has two other parts, the mycelium and the spore. Frequently however the word "mushroom" is used to refer to the entire organism.

This misconception is abused by marketers selling cheap mushroom powders - most US producers sell ground up mycelium in substrate (usually starch), which due to poor regulation in the US supplement industry is allowed to be labelled as mushrooms. The starch has no medicinal value and is considered a filler. And the majority of the medicinal value is actually concentrated in the fruiting body, the true mushroom, not the mycelium. So be careful - when you think you are buying true mushrooms, in most likelihood you are actually buying a bunch of starch and some mycelium. It's not the same.

1:1 WATER EXTRACTED
Why do we offer a 1:1 extract? Pre-digesting the mushroom with water extraction makes it more bioavailable than the raw mushroom itself.
A one to one extract starts with a finely milled mushroom powder. This powder is extracted for 3 hours in hot water at 80 C. After this extraction, much of the water is evaporated to produce a concentrated fluid. This fluid still contains the mushroom powder. At this time the powder-filled fluid is sent to the spray drier which creates a fine powder. The most important takeaway of this process is the fact that the raw material is never separated from the extraction fluid. This means that nothing from the original mushroom is lost or discarded.

Water extraction mobilizes the soluble beta-glucans and most other nutritional compounds from the fiber. Research has shown that the most immunologically active compounds in mushrooms are the soluble beta-glucans.


Vegan
Keto
Ethical
GMO-Free
Soy-Free
Sugar-Free
Regenerative
Vegan
Keto
Ethical
GMO-Free
Soy-Free
Sugar-Free
Regenerative
I became excited about mushrooms when I first began wild harvesting reishi and chaga in forests on the East Coast.
I would slice up my mushrooms and steep them in hot water for many hours to extract the medicinal compounds into a mushroom tea. Then I would use this tea as the base for my cup of cacao, instead of my usual hot water. I loved the health benefits of these mushrooms tea and cacao blends, but I knew most people wouldn't have the time or privilege to wild harvest and spend hours making tea. So instead I discovered how to take water extracted mushroom powders, and to grind those into the cacao so that the cacao discs are fully ready to use and bioavailable. Along the way I discovered many more amazing mushrooms I loved using which is why we have eleven in this recipe!

Grounding and nurturing, connecting to our root energy center, our connection to the physical.
With eleven powerful immune boosting mushrooms, this cacao supports rooting and centering by connecting to the ancient heart of the earth. It has recently been found that the first mushrooms evolved on Earth between 715 and 810 million years ago, way before the first plants showed up here! By consciously tuning into the wisdom of our mushroom friends you can bring about support and nourishment to your physical body while opening your heart.

Do you want a better way to eat superfoods?
We created enhanced cacaos as a convenient daily way to help you get important superfoods in your diet. Cacao is a vasodilator and cardiac stimulant, so when you ingest cacao with superfoods, they are absorbed deeper into your tissues because of the increased circulation. So you get both the benefits of cacao, an amazing superfood on it's own, and all of these additional ingredients. We also brought our expertise in sourcing to get the highest quality superfoods available.
Preparing Your Cacao
Step 1

Take a handful of cacao discs (use 20-25 discs, depending on your desired dosage).

Step 2

Combine with 1 cup of 180°F liquid (water, herbal tea or nut milk).

Step 3

Whisk or blend for 15 seconds. Optionally add sweetener (try maple syrup or raw honey).
Love this Ceremonial Cacao

I love this product because it doesn't give me stomach issues. I've tried a few other brands of ceremonial cacao that have made me feel bloated, discomfort, etc but this does not. I add the cacao chips to my foursigmatic mushroom powder mix, hot water, a spoonful of manuka honey and give it a quick froth -- absolutely delicious. This ritual in combination with other habits in my life have truly elevated my daily living. Love it!

Cool cacao

Well what's not to like about this stuff? It's healthy, it's sugerfree, it's got mushrooms and it's all in a cool pretty bag.

A Favorite

Love the earthy taste and smooth texture. One of my favorite blends!

Amazing !

I used to use Mudwrt and stopped because I read the ingredients weren't pure and the mushroom was not from the fruiting body. I started mystical mushroom instead with my morning drink and wow it's life changing. I feel energized, focused and clarity. Huge difference going from an okay morning setup to a high quality setup.

Favorite way to start my day

Delicious cacao with the added bonus of mushrooms.

delicious

I've really enjoyed this blend and it has made transitioning away from coffee so easy to do! Feeling energized and inspired every morning :)

Perfect for my shamanic journeys

I just love drinking this Cacao and lying down for a shamanic journey. I hit play on the drumming audio and let the Mystical blend of Cacao open my heart, while the drumming opens my mind to altered states of consciousness. Delightful!

New found love

I've been using ours cacao for a couple of years. When I first tried mystic mushroom from the starter kit, I actually didn't like it. I tried it again recently and loved it. There is such a nice flavor of cacao without being overpowered by the mushrooms. Plus I love getting the benefits of the high quality mushrooms.

Exceeded expectations!!

I can't rave enough about this product. This is my first time trying ceremonial cacao, so I was a little skeptical about the flavor, but I love it. I have chronic GI issues, and the mushrooms have helped my bloating more than any other product I've tried. This is also a coffee replacement drink for me, and the energy I experience after drinking Ora is much more sustainable and grounded than what I used to experience after a couple cups of coffee. No exaggeration, this stuff has changed my life for the better 💜

Love This Cacao

By adding it into my latte I get to enjoy it on the go. Makes me feel relaxed during my morning work routine.
Reviews Loaded
Reviews Added
Answers to Frequent Health Questions
What are the Nutrition Facts?

Due to smaller disc size, please note serving size is 20-25 discs
Is Your Cacao Tested for Heavy Metals?

Our cacao has been lab tested for safety and meets comprehensive EU standards for absence of heavy metals. In particular all our cacao tests below detectable thresholds for lead, and all our cacao tests below government mandated limits for cadmium. We actually test for 68 different heavy metals, but our focus here is on lead and cadmium as those are of most public discussion.

So why is our cacao so much safer than other chocolate products out there? 

Let's look at cadmium specifically. Cadmium uptake is dependent on many variables, including cacao genotype, cacao tree age, and other trace metals present in the soil. Notably, the more depleted the soil is of other beneficial minerals such such as Zn, Ca, Mg, and Mn, and the younger the trees are, the higher the Cadmium uptake is. Because our cacao sourcing is focused more on quality than quantity, it is not farmed as intensively as the majority of global monoculture cacao production. Rather, our trees tend to be older and within polyculture agroforestry systems with rich soils - all factors that reduce cadmium uptake. The permaculture practices that our farmers use also regularly replenish the soils. So really, cadmium uptake has a substantial amount to do with farm management practices.




It's also interesting to note that cadmium is first accumulated in leaves, then cacao pod shells, then cacao beans. Proper handling and shelling of cacao beans can remove the husk, which has a higher concentration than the edible part, the bean. We take great care in our cracking and winnowing process to remove as much shell as possible, which also reduces cadmium concentration in the final product. With our recent factory upgrade, we actually acquired a cracker and winnower that is a state of the art German design, used in the chocolate industry for over fifty years! This results in the cleanest cacao nibs possible.
Are there any Contradindications?

We believe cacao has potential as a holistic therapy for depression, and we have encountered the effects of cacao during depressive episodes to be uplifting and stabilizing. It is our sincere hope that someday cacao could become a part of a clinically proven method for treating depression naturally, or as a method for assisting people in reducing their dependence on powerful pharmaceuticals. 




Because cacao is contraindicated with SSRIs, many people struggling with depression cannot take cacao because of the SSRI's they are medicating with. There is potential that people may be able to partially reduce their SSRI medication intake and supplement with ceremonial cacao, however medical studies on this need to be done to establish a verifiable protocol. If you are a medical practitioner and would like to collaborate with us on such a study, please let us know! Because pharmaceutical SSRIs have many side effects and ceremonial cacao is beneficial in so many other ways, we are hopeful that such a protocol would greatly benefit the lives of many people struggling with depression and other mood disorders.
What Minerals Does Cacao Have?

Consuming cacao can replenish minerals vital to our body. Magnesium is chronically deficient in the majority of western diets, and cacao is the highest naturally occurring source. Magnesium is used in all key brain functions, especially memory and concentration. It is also beneficial for the function of the heart, acting to relax blood vessels and decrease strain. Besides magnesium, cacao is also the highest naturally occurring source of chromium, and also high in copper, calcium, manganese, zinc, sulfur, iron, and phosphorus.
How Does Cacao Affect Mood?

Many ceremonial cacao lovers report a notable impact on their mood. There is substantial science that explains why ceremonial cacao is so beneficial. Pure cacao contains beneficial neurotransmitters and neuro-modulators already present in our brain. It also contains reuptake inhibitors that block the pathways that our bodies normally use to break down and recycle these beneficial mood altering molecules, so the good mood lasts for longer. In the long term, regularly working with ceremonial cacao can have therapeutic health benefits, including creating new neural pathways that change our daily experience to include more joy, love, and connection.

Top Molecules in Cacao

Some of the top mood altering molecules in cacao include:

Anandamide is commonly referred to as the bliss molecule, and is associated with the runner's high effect. It is actually the first endocannabinoid to be discovered, and it is well known for moderating pain. Cacao also has N-linoleoylethanolamine, which is the reuptake inhibitor for anandamide.

Phenylethylamine (PEA) - Helps with excitement, alertness, attention. Gives the perception of time slowing down.

Norepinephrine is commonly referred to as the joy molecule. It is both a neurotransmitter and a hormone,

Serotonin - Helps with wellbeing, and creates resistance to stress. Cacao also has MOA inhibitors that inhibit reuptake of serotonin.

Dopamine - Gives feelings of motivation and pleasure. Cacao also has MOA inhibitors that inhibit reuptake of dopamine.

Due to these molecules and many others, when you drink ceremonial cacao you may feel expansive, blissful, connected to self and/or others, inspired, connected to your intuition & vision, connected to spirit, grounded, emotions arise, and the movement of stuck energy. You can also experience increased blood flow, mood elevation, and a more expanded state of consciousness. Cacao is a vasodilator, meaning your blood vessels and muscular systems relax. When working with ceremonial doses of cacao, blood flow can increase by up to 30%, meaning that more blood (life force energy) is moving through your body and nourishing all of your systems.
Explore More Enhanced Cacao
CONNECTED TO THE SOURCE
FROM FARM TO CUP
Our hearts have been opened and our lives have been transformed through intimate contact with cacao, one of nature's greatest healing medicines. We hope in our relationship with you, you will receive many gems of wisdom compiled from countless hours in the field, that we hope will deepen your practice, connection and life.
Learn More
Not sure where to start with Cacao?
That's okay, you can try them all! Our best selling enhanced ceremonial cacao kit allows you to try all four of our sugar free enhanced cacaos!