Mushrooms are truly a gift from nature.
Mushrooms boost your immunity, heal your body from all sorts of diseases, and relieve your nervous system.
However, you must choose wisely! Not all "mushroom" powders sold in the US are made equal. 
The majority of them are in fact not fruiting body mushrooms at all, and instead are ground up mycelium and inert substrate.
Due to a loophole in how mushroom supplements are labeled and an easily fungible test for beta-glucans—one of the key indicators of mushroom potency—many mushroom powders are not truly what they are sold to be in their marketing.
When we learned this we couldn't believe it. It's completely misleading!
Selling ground up mycelium as "mushrooms" is done as a cost-saving measure because of how expensive it is to grow fruiting body mushrooms in the US. 
We don't believe that's acceptable, which is why we source internationally. The biggest concern most people have with purchasing mushrooms from abroad is safety, and understandably so.
That's why we've taken our experience sourcing cacao internationally, and done the same for mushrooms!
We make sure there are no pesticides, heavy metals, etc. with a rigorous triple lab testing procedure.
It's important to do your research first. When it comes to healing, don't compromise. 
Medicinal Mushroom Enhanced 100% Cacao is one of the safest mushroom products in the world. 
In a couple of months, we'll also be releasing our own blends of pure fruiting body mushroom powders. 
Would you be interested in getting these from us? Reply to this email or text "Mushroom" to +1 (844) 695-0043, and we'll add you to the VIP list.
(P.S. - We have some exciting updates to our Medicinal Mushroom cacao coming soon! See the picture below for a sneak peek.)
Triple-Tested For Safety
Our Medicinal Mushrooms cacao (and soon-to-be-launched mushroom powders) are some of the safest and purest mushroom products in the world, with scientifically validated potency.
Our sourcing partners work with thousands of small rural farmers that are dedicated to the organic cultivation of mushrooms on natural substrates. Only the fruiting body is used in the final product.
Here are a few ways our partners ensure that the mushrooms we receive are of the highest quality on the market:
The cleaning and extraction facilities are GMP-certified and only process mushrooms (just like we only process cacao at Firefly).
All water used in cleaning and extraction is purified with an ultrafiltration system, and all work is done in ultra-cleanroom environments. 
Before arriving in the US, all mushrooms receive complete microbial testing for bacteria, yeast and mold, e. coli, and coliforms, heavy metals analysis, pesticide testing that exceeds USP standards, and organoleptic evaluation.
After arriving in the US, they are tested (again!) by reputable 3rd-party labs for safety and mushroom-specific compounds that validate the potency. 
You would think that US-grown mushroom companies do all of this and better, but they don't!
(*Pictured above is a sneak peek of the new name for Medicinal Mushrooms --> Mystical Mushrooms! Your order may come in our new packaging with a new Mystical name, but it will be the same Medicinal cacao inside that you know and love!)
Triple-Tested For Safety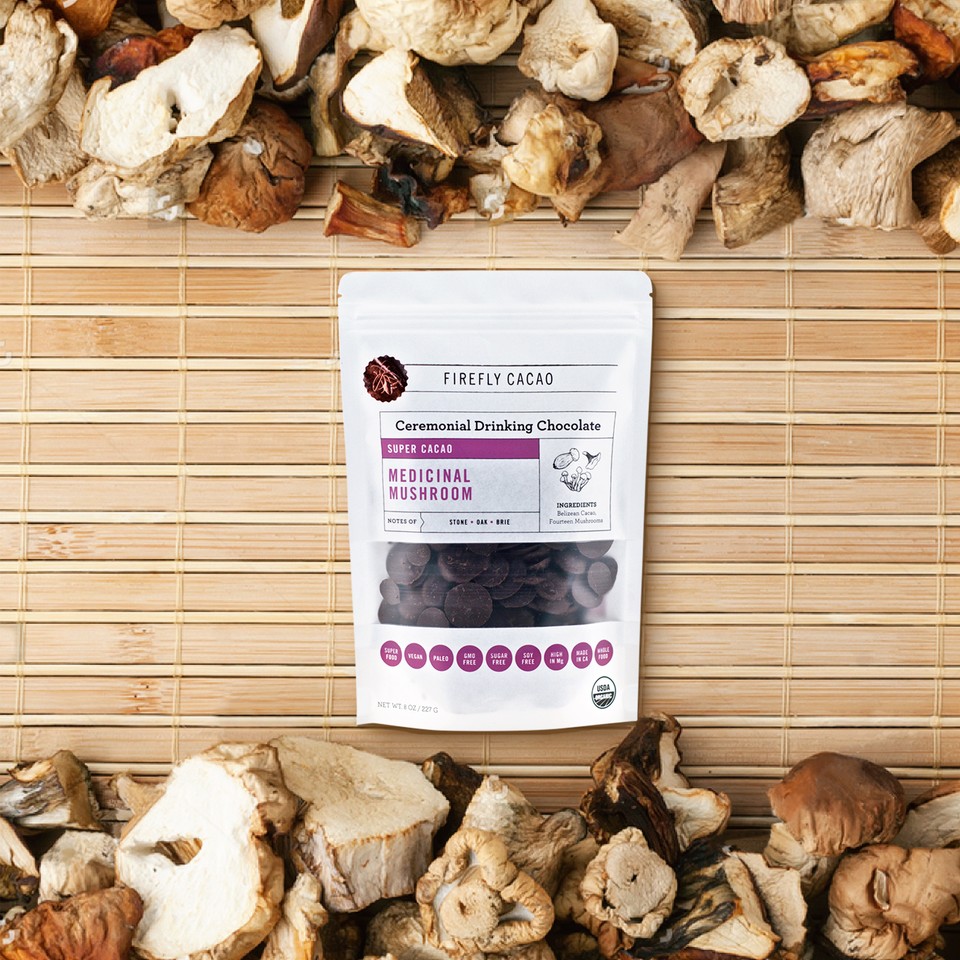 ⭐⭐⭐⭐⭐ Five-Star Review
"This is the most potent, high-vibration, high-quality, delicious, and harmonious cacao elixir I have ever come across. Highly recommended! Must try, over and over again for optimal happiness and continual bliss experience. Not exaggerating!"
- Ila
Do you have any questions on rituals? Or would you like to share your rituals with us?
We'd love to hear from you and feature your cacao practice in future newsletters! Text us at +1 (844) 695-0043, reply to this email, reach out on social media, or click on the bottom-right-hand corner of our website for help.
With Love, Gratitude, & Cacao,
Jonas & The Firefly Family
​P.S. - ❄️ We are now on a summer shipping schedule. All cacao is sent out with ice packs and recycled + recyclable insulation!
📅 Orders ship Monday through Wednesday.
🕰️ Wednesday @ 1pm PST is the last order time to make the above shipping window, so that we can reduce the likelihood of your cacao being delayed in a hot warehouse over the weekend!
🧠 Please be mindful if you are ordering during a heatwave.
🏡 Bring your package inside as soon as you can after it is delivered!
📲 We recommend opting in for text message delivery notifications; to do this, enter your phone number at checkout and you will receive updates on your cacao!
Join Us! Firefly Community - FREE Weekly Virtual Cacao Ceremonies
Tuesdays at 1 PM PST (via Zoom)
Cacao brings us together and creates authentic group connections. Come experience cacao with people from around the world in a safe welcoming space. Click here to sign up and see more details! 

Let's Be Friends!
Text +1 (844) 695-0043 for a more intimate cacao conversation.  
You'll get access to the Firefly Family, our private circle where we share exclusive promotions, cacao ritual insights, exciting product updates, and more.
Triple-Tested For Safety
Triple-Tested For Safety