Glowing Guatemala
If you are looking for an ally for deep self-inquiry, this cacao is made for you. It can awaken compassion, care, and the ability to reflect with love and honesty. Grown in the K'eqchi Mayalands, this cacao carries with it a strong, wise, yet graceful and mothering energy. It is perfect for a daily ritual of connection to self and when shared with community, activates our awareness to our inextricable connection to each other.
This cacao is grown in a remote village of 125 families located in the Alta Verapaz department - known as the mountains of True Peace. Their village is disconnected from the rest of the world except for a footbridge crossing the raging Cahabón river, and because of this, are still very much connected to their indigenous traditions as they have been able to resist outside influence. Thanks to this, their cacao traditions have remained intact and we have had the honor to learn directly from them during our in-person visits. The Indigenous families we work with make 90% of their income from cacao and we are proud to share that we buy all of the cacao produced by them.
From our farmers in Guatemala, B'antiosh - this is thank you in K'eqchi' Maya!
Ingredients
Organic Cacao Beans from Guatemala
Mood
Mothering, Strong, Wise
Best For
Insight and Inner Work
Flavor Profile

Fig, Tobacco, Leather (these are tasting notes, not ingredients)
VOLUME DISCOUNTS
Mix & match any of our cacaos. Automatic discounts applied in cart for 3 or more one pound bags or 2 or more five pound bags.
Contains 20 servings, $3.05 per serving
Regular price

Sale price

$61.00

Unit price

per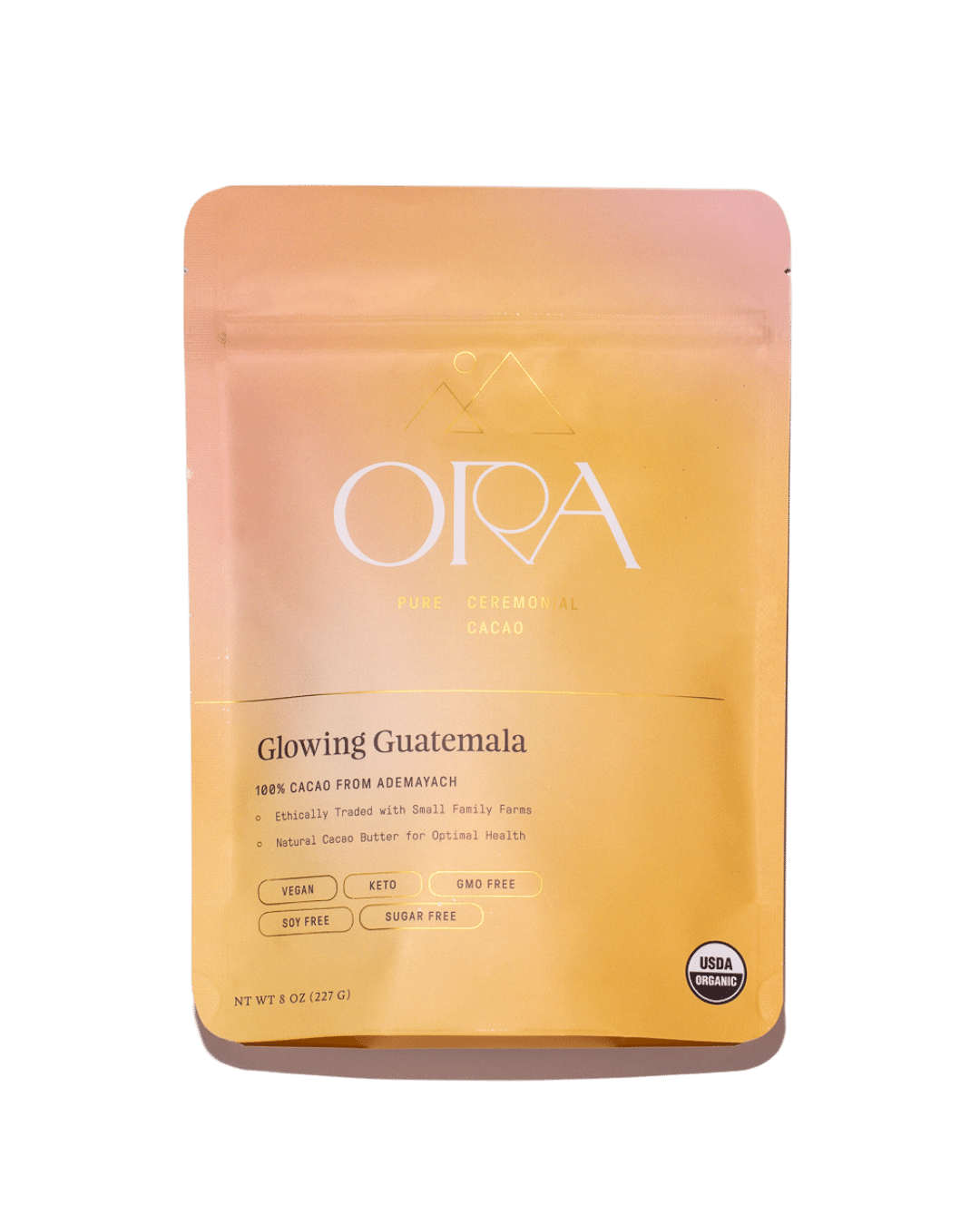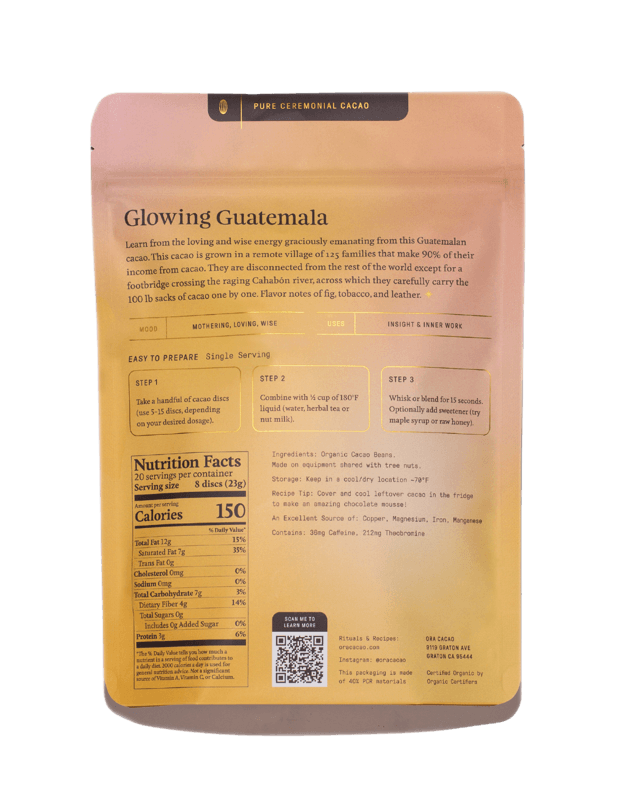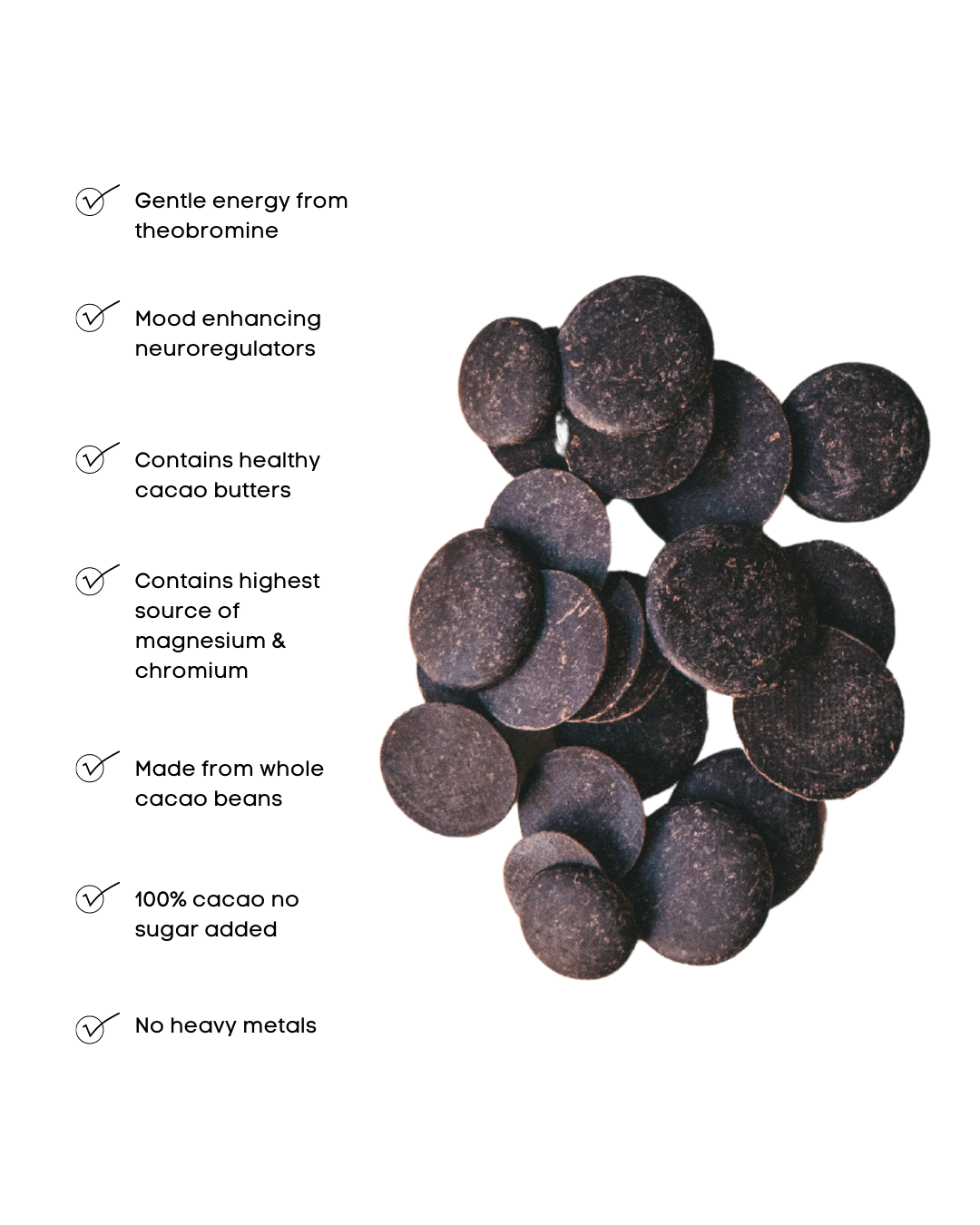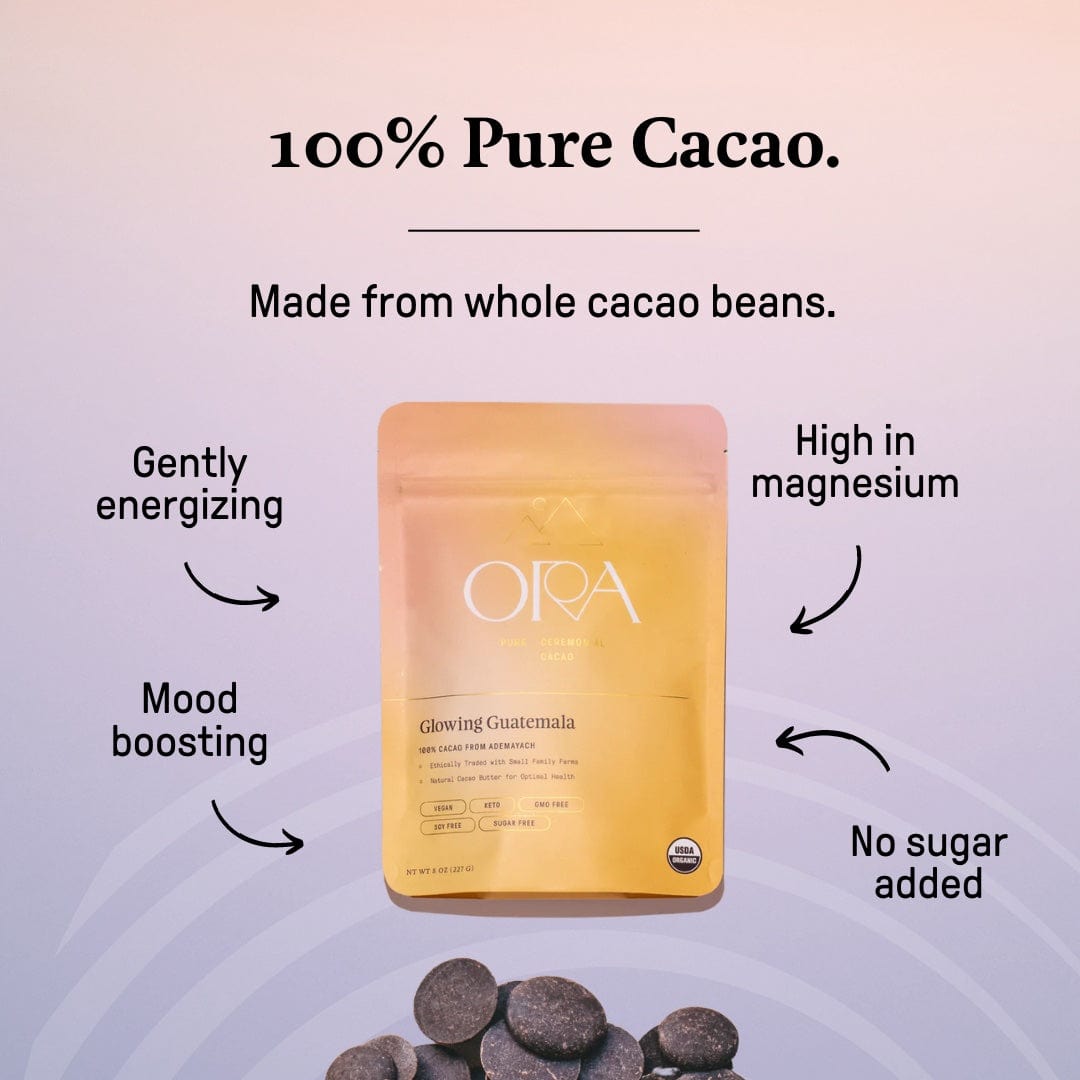 Journey with Us to the Source ...
The Rio Cahabon, home of the community of Chivite
Roasting the fresh cacao beans to activate their flavor

Stone grinding the fresh cacao beans into a paste
The Maya community of Chivite gathered together
The community of San Juan Chivite is based entirely within a 180-hectare cacao farm, abandoned by its owner during the terrible Guatemalan civil war in the 1980's and handed over in 1985 to the 65 families who were former workers of the farm. In 2002, the families converted a portion of the farm that was formerly coffee over to cacao, and as the community has grown from 64 to 125 families today, cacao cultivation remains the source of over 90% of the community's income.

The fate of this region stand in stark contrast to other regions of Guatemala, for example the south coast where many cacao farmers had to sell their farms for money and sugar cane, rubber and palm oil took over. Now thousands of hectares are dedicated to farming those products which has introduced chemicals and pollution, and led to habitat loss. Many people have left the villages because of the pollution, and have gone to cities or illegally immigrated to the US.

To get here, one must take the road less travelled from Lanquín, which is the third most popular tourist destination in Guatemala due to Semuc Champey, one of the top ten wonders of the world. Semuc Champey features turquoise limestone pools and underground rapids as the Cahabon river flows through the cave. The region was once surveyed for the construction of a dam but fortunately nothing was built. When we came for our first visit, the community was still apprehensive of outsiders due to this reason. Now new development is coming to the region in the form of a paved road, so our work supporting the traditional cacao farming communities is of critical importance. Besides cacao, the region export coffee and cardamom, and grows abundant corn and black beans for the local market.

Our farmers speak Q'eqchi' Maya, one of over twenty indigenous languages still spoken in Guatemala today. The cacao farmers we work with here have some of the most intact knowledge of cacao we've seen across all of our sourcing trips, and central to their life style is belief in the mountain spirits, and a strong ethic of respecting nature and the environment. A typical greeting is "Masal chol" which translate to "How is you heart?" In response, one could reply "Saa mantiosh", which translates to "Good, thank you!" The local river, the Cahabón, is a Q'eqchi' Maya name that means red dust, referencing the red dirt and soil of the riverbed. It's a long river that runs through about 10 rural towns into Lago de Izabal.

The village and farms are accessible only by a swinging bridge over the wide, rushing Cahabón river. To process their cacao, cacao farmers carry 100-lb sacks over the bridge on their backs, because the fermentery and drying facility is located on the other side of the river, closer to the only road in the valley. This hanging bridge collapsed during a massive rain storm in 2020, and the Firefly community rallied to donate for the construction of a new, sturdier bridge.

The farmers sell their cacao to an independently run cacao association that manages their post harvest fermentation and drying. This association (called ADEMAYACH) is governed by 10 organic farmers in a council style, non-hierarchical board. In 2016 the village built their first centralized fermentery and drying decks allowing the farmers to add more quality and value to their crop, and helped them bypass middlemen (commonly called "coyotes") that offered the farmers poor prices. They also received organic certification in 2016, and in addition to the impact from our cacao purchases, Firefly supports the annual salary for the organic cacao fermentation manager.

Preparing Your Cacao
Step 1

Take a handful of cacao discs (use 20-25 discs, depending on your desired dosage).

Step 2

Combine with 1 cup of 180°F liquid (water, herbal tea or nut milk).

Step 3

Whisk or blend for 15 seconds. Optionally add sweetener (try maple syrup or raw honey).
Vegan
Keto
Ethical
GMO-Free
Soy-Free
Sugar-Free
Regenerative
Vegan
Keto
Ethical
GMO-Free
Soy-Free
Sugar-Free
Regenerative
The Best EVER!!!! - Absolute Essential

I am so in love with ORA, and this Cacao specifically. I've tried many other brands/strains of Cacao, and finally settled into this company, as I love how they operate, what they do this for, and the taste/effect of their Cacao is DIVINE! It has become an essential part of my sacred daily flow, and am always grateful. 🙏🏻

Beautiful medicine

Warmth, generosity, compassion, connection in every cup.

My favorite

Glowing Guatemala is my favorite. It feels like a warm hug. I use this as my base and then add some of the other flavors to create a perfect combo of cocoa.

Nurturing blend

Love how nuturing Glowing Guatemala feels as a first thing in the morning treat

Lovely spiritual experience...

Love the feeling I get from this, feeling of calm and lovingly rooted. High quality thank you.

Great alternative to coffee

I'm glad that I drank this item called cacao. It makes you ferl good from start to finish. Without that depressive effects that caffeine gives you.It was the best switch I made from coffee !!!

Amazing!

I love this Cacao so much. I feel like taking it regularly has helped me to stay in a centered, good space and release my need for SSRI's. Thank you!

My Favorite !

This is my favorite everyday cacao! So smooth and rich. I will definitely be ordering more

Amazing Value and Product

This cacao is such a reasonable price and tastes so good! I was apprehensive about it coming in the little disks-- I thought that might take away from the ritual itself-- but it's really just made it more accessible for me to enjoy cacao daily. I love incorporating cacao into my self care routine but sometimes it felt daunting having to handle a brick of it, and I'd cry on the inside every time I wasted some because it's typically so dang expensive! Even drinking it daily, the 1IB bag seems to be lasting me a long time which I really appreciate. The final product is so smooth and delicious! I'm looking forward to trying some of the other varieties.

Glowing Guatemala is magical!

Where do I begin? This cacao has been blowing my mind for the past several weeks I've been drinking it. I was fairly new to drinking ceremonial cacao-- I'd only experienced it once before a few months ago. When I discussed with a friend about wanting to quit drinking coffee because it seemed to be making me irritable and I'm not an angry person--she suggested I try cacao and recommended Ora. I was totally open to it because the one time I did a cacao ceremony recently I loved it, so doing this regularly sounded great. I decided to make it part of my morning ritual and sit with the cacao. I have had such a connection to this one. "Mothering" as it states on the package, is so accurate and perfect! I've had profound meditations, including mothering my inner child while sitting with Glowing Guatemala. It's so gentle and loving. Like a warm embrace, but also if you really sit with it and your breath, it will show you exactly what you need and then give it to you. I enjoy channeling reiki while doing my cacao ritual. It's just beautiful. I definitely feel like its rewiring my brain! I have been telling everyone I know about Ora and this medicine. I'm completely obsessed! Oh and the daily headaches I used to get before cacao have gone away! :D
Reviews Loaded
Reviews Added
Answers to Frequent Health Questions
What are the Nutrition Facts?

Due to smaller disc size, please note serving size is 20-25 discs
Is Your Cacao Tested for Heavy Metals?

Our cacao has been lab tested for safety and meets comprehensive EU standards for absence of heavy metals. In particular all our cacao tests below detectable thresholds for lead, and all our cacao tests below government mandated limits for cadmium. We actually test for 68 different heavy metals, but our focus here is on lead and cadmium as those are of most public discussion.

So why is our cacao so much safer than other chocolate products out there? 

Let's look at cadmium specifically. Cadmium uptake is dependent on many variables, including cacao genotype, cacao tree age, and other trace metals present in the soil. Notably, the more depleted the soil is of other beneficial minerals such such as Zn, Ca, Mg, and Mn, and the younger the trees are, the higher the Cadmium uptake is. Because our cacao sourcing is focused more on quality than quantity, it is not farmed as intensively as the majority of global monoculture cacao production. Rather, our trees tend to be older and within polyculture agroforestry systems with rich soils - all factors that reduce cadmium uptake. The permaculture practices that our farmers use also regularly replenish the soils. So really, cadmium uptake has a substantial amount to do with farm management practices.




It's also interesting to note that cadmium is first accumulated in leaves, then cacao pod shells, then cacao beans. Proper handling and shelling of cacao beans can remove the husk, which has a higher concentration than the edible part, the bean. We take great care in our cracking and winnowing process to remove as much shell as possible, which also reduces cadmium concentration in the final product. With our recent factory upgrade, we actually acquired a cracker and winnower that is a state of the art German design, used in the chocolate industry for over fifty years! This results in the cleanest cacao nibs possible.
Are there any Contradindications?

We believe cacao has potential as a holistic therapy for depression, and we have encountered the effects of cacao during depressive episodes to be uplifting and stabilizing. It is our sincere hope that someday cacao could become a part of a clinically proven method for treating depression naturally, or as a method for assisting people in reducing their dependence on powerful pharmaceuticals. 




Because cacao is contraindicated with SSRIs, many people struggling with depression cannot take cacao because of the SSRI's they are medicating with. There is potential that people may be able to partially reduce their SSRI medication intake and supplement with ceremonial cacao, however medical studies on this need to be done to establish a verifiable protocol. If you are a medical practitioner and would like to collaborate with us on such a study, please let us know! Because pharmaceutical SSRIs have many side effects and ceremonial cacao is beneficial in so many other ways, we are hopeful that such a protocol would greatly benefit the lives of many people struggling with depression and other mood disorders.
What Minerals Does Cacao Have?

Consuming cacao can replenish minerals vital to our body. Magnesium is chronically deficient in the majority of western diets, and cacao is the highest naturally occurring source. Magnesium is used in all key brain functions, especially memory and concentration. It is also beneficial for the function of the heart, acting to relax blood vessels and decrease strain. Besides magnesium, cacao is also the highest naturally occurring source of chromium, and also high in copper, calcium, manganese, zinc, sulfur, iron, and phosphorus.
How Does Cacao Affect Mood?

Many ceremonial cacao lovers report a notable impact on their mood. There is substantial science that explains why ceremonial cacao is so beneficial. Pure cacao contains beneficial neurotransmitters and neuro-modulators already present in our brain. It also contains reuptake inhibitors that block the pathways that our bodies normally use to break down and recycle these beneficial mood altering molecules, so the good mood lasts for longer. In the long term, regularly working with ceremonial cacao can have therapeutic health benefits, including creating new neural pathways that change our daily experience to include more joy, love, and connection.

Top Molecules in Cacao

Some of the top mood altering molecules in cacao include:

Anandamide is commonly referred to as the bliss molecule, and is associated with the runner's high effect. It is actually the first endocannabinoid to be discovered, and it is well known for moderating pain. Cacao also has N-linoleoylethanolamine, which is the reuptake inhibitor for anandamide.

Phenylethylamine (PEA) - Helps with excitement, alertness, attention. Gives the perception of time slowing down.

Norepinephrine is commonly referred to as the joy molecule. It is both a neurotransmitter and a hormone,

Serotonin - Helps with wellbeing, and creates resistance to stress. Cacao also has MOA inhibitors that inhibit reuptake of serotonin.

Dopamine - Gives feelings of motivation and pleasure. Cacao also has MOA inhibitors that inhibit reuptake of dopamine.

Due to these molecules and many others, when you drink ceremonial cacao you may feel expansive, blissful, connected to self and/or others, inspired, connected to your intuition & vision, connected to spirit, grounded, emotions arise, and the movement of stuck energy. You can also experience increased blood flow, mood elevation, and a more expanded state of consciousness. Cacao is a vasodilator, meaning your blood vessels and muscular systems relax. When working with ceremonial doses of cacao, blood flow can increase by up to 30%, meaning that more blood (life force energy) is moving through your body and nourishing all of your systems.
Explore More Pure Ceremonial Cacao
Not sure where to start with cacao?
That's okay, you can try them all! Our best selling pure ceremonial cacao kit allows you to try all four of our 100% single origin cacaos!