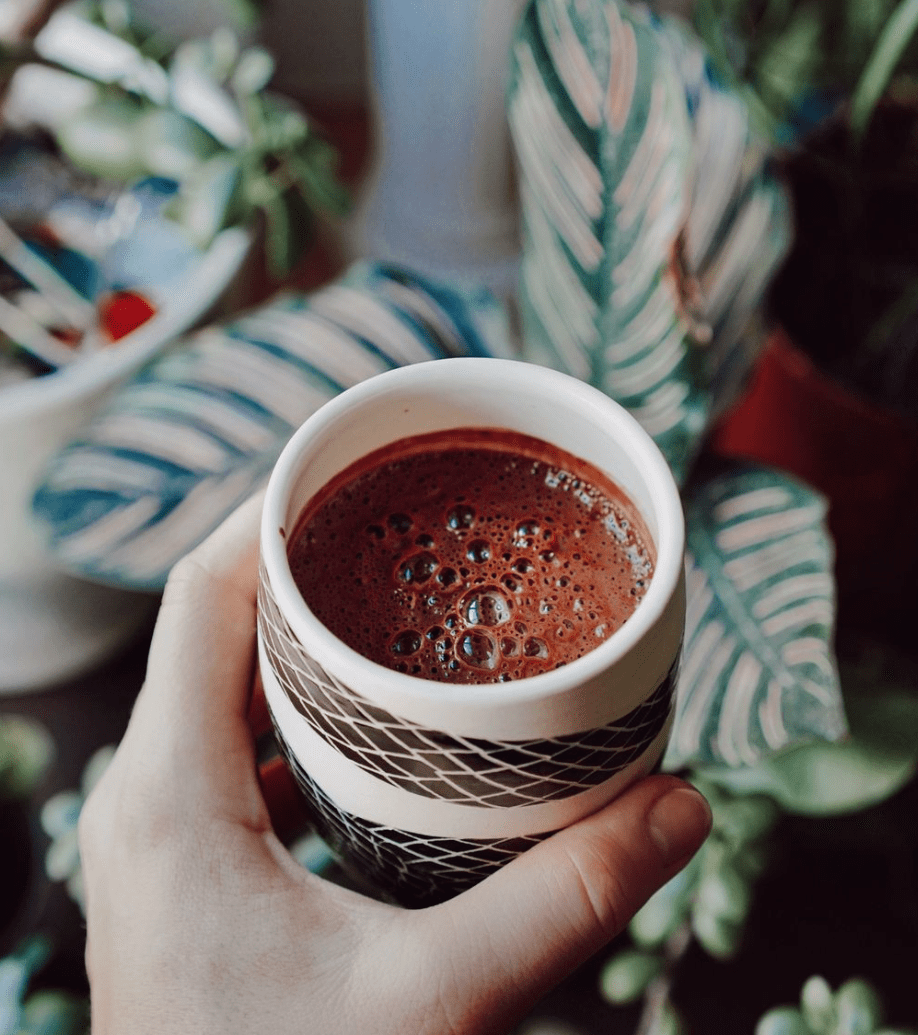 Cacao 101 Course - Day 8
Today's Cacao: Glowing Guatemala
We're super excited about today as it's time to prepare your first cup of cacao during this course!
Before we send you off into your guided meditation with the cacao, we're going to cover some ceremonial cacao drink basics.
Important things to know about preparing cacao:
Water temperature: When you heat your water or liquid of choice be sure that it doesn't reach boiling. If it does, that's ok, just let it cool off a little bit before mixing it with your cacao. It is best not to use boiling water as it can damage some of cacao's nutritive properties like its antioxidants and flavonoids. If you have an electric kettle with temperature settings, you want the water to be about 180°F.
Water to cacao ratio: How much water you use for your cacao drink will really depend on preference and we encourage you to play around to see what kind of consistency you enjoy most. For a creamier, thick consistency, we suggest ½ cup of hot water for 15-20 discs (a daily dose of cacao). For a less creamy consistency, you can use up to 1 cup of hot water for 15-20 discs.
Cacao Dosages: Know the difference between a ceremonial dose, a meditation dose, & a daily dose. It's important to know which kind of cacao dose is best for you and for your purposes.
Ceremonial Dose: 35-50 discs (35-40 grams & up to 50 grams for less sensitive people). We recommend you don't go beyond 2 ceremonial doses per week.
Meditation Dose: 25 - 30 discs (about 20-30 grams). This is a great dose if you'd like to have a meditative experience with cacao. It's not quite a ceremonial dose so it can be used up to 3 times per week and is a great dose for a long meditation or ritual.
Daily Dose: 15 - 20 discs (about 10-15 grams & up to 20 grams for less sensitive people.) By the name of this dose, you know that it's perfect if you'd like to include cacao in your daily routine!
Now it's time to prepare your cacao. For these next 14 days, we ask that you only prepare your cacao with water and not with any other alternative milk or tea. This is so that you can create a direct connection to cacao first before you add in other flavors or energies.
The state which you're in while you're preparing your cacao is just as important as the time you spend drinking it. Here are some suggestions:
Dedicate a specific mug to your cacao that feels special and beautiful to you. Having a dedicated mug creates a sense of sacredness for your cacao.
Have a playlist that feels like it connects you to your heart and play it while you heat your water and measure out your discs. You can use the playlist Ayana, our marketing manager & community host, loves to use when she's about to spend some time with cacao (it's in the text message!)
When you get ready to blend, froth, or stir your cacao do your best to be in a centered and calm state. Don't rush, be present, and make your cacao drink with love.
For this week's meditations, we recommend you prepare your cacao using a daily meditation dose, especially if you are new to working with cacao. If you got the variety kit, you can use the entire bag, that is one does.
Now create your preparation ritual, and make your cacao drink. Once your drink is ready, be sure you have 15-20 minutes of uninterrupted space for your meditation & reflections.
Today, our guided meditation will be simple and consist of you beginning to cultivate a relationship with cacao by tuning into its qualities.
Before you begin, take a moment to write down how you are currently feeling, emotionally, physically, and mentally. Then, hit play on today's meditation. Enjoy!
Play Day 8 Audio Meditation
Reflection for day 8
1. How do you feel after spending some time with cacao today? Take a look at what you wrote down before the meditation. Did anything shift?
2. What are some of cacao's qualities mentioned in the meditation that you most wish to cultivate in you right now?