Cacao Ceremony Facilitation Course
Feeling ready to share the profound medicine of cacao with others? 
This course teaches the in-depth knowledge, practical skills, and embodied wisdom you need to facilitate cacao ceremony in a good way.
Over 12 weeks, you'll receive intensive training that includes:
In-depth education on cacao and cultural nuances

Foundational ceremony facilitation skills

Opportunities to practice hosting cacao ceremonies and receiving feedback

Live Q&A calls for support

Connection to a network of like-minded cacao ceremony facilitators
We begin January 8th!
*There is a payment plan option using ShopPay at checkout
Regular price

Sale price

$684.00

Unit price

per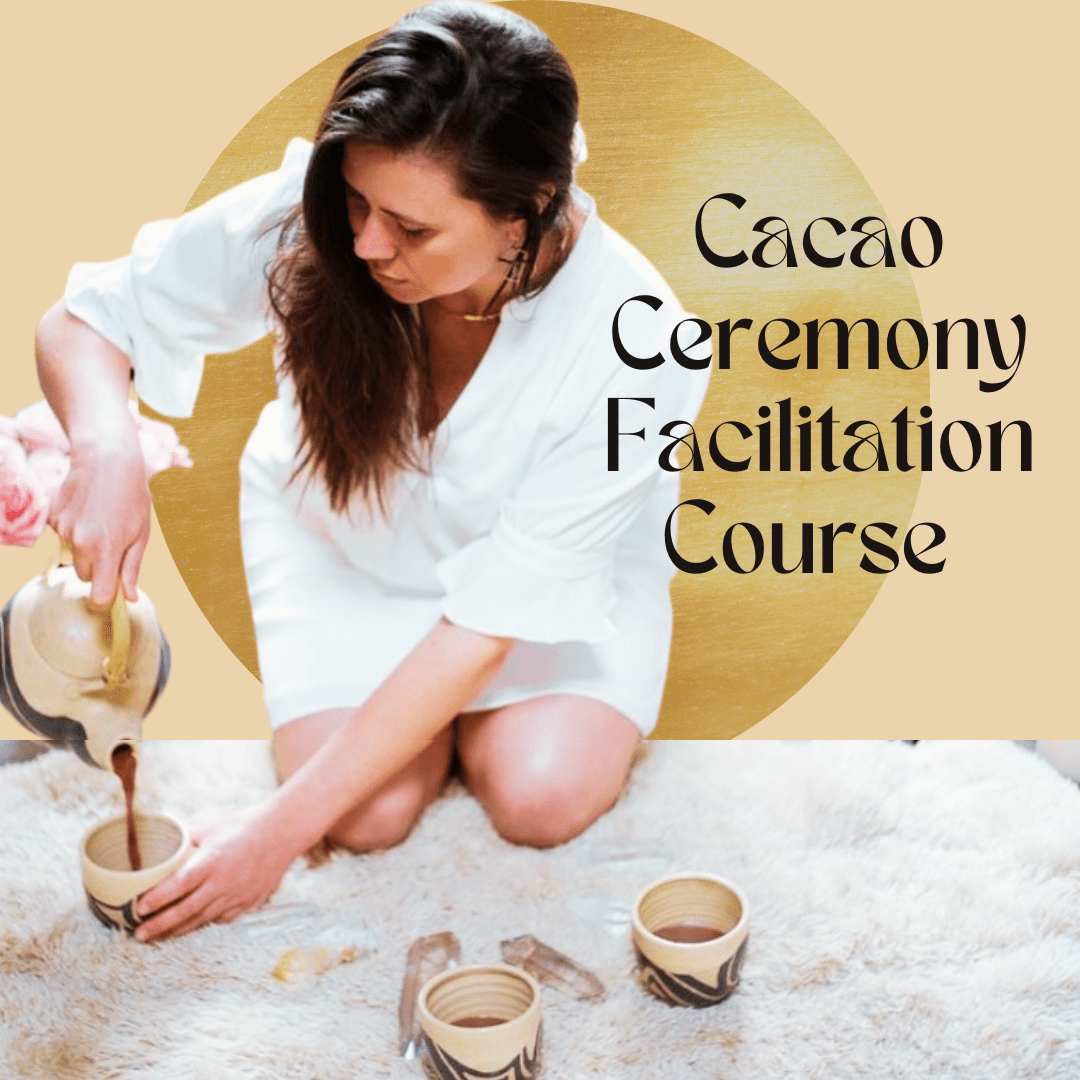 This Course Is For You If...
You've been feeling the call to facilitate cacao ceremonies but need foundational knowledge & experience
You're already holding cacao ceremonies but are missing in-depth knowledge about cacao
You're looking for a community of cacao ceremonialists to learn from and grow with
What To Expect From This Course
Want to bring cacao ceremonies to your community but need foundational knowledge and practical experience to feel in integrity doing so?
Or maybe you're already facilitating cacao ceremonies but you're craving in-depth learning about how cacao is made, where cacao ceremony comes from, and how to address questions on cultural appropriation?
This course is a comprehensive learning journey so that you feel well prepared to facilitate cacao ceremony in a good way. We include:
Practical need-to-know information about how cacao is made and where it comes from
Practices to deepen your relationship with this plant spirit so that you can facilitate from your own embodied wisdom
Guidelines for creating and holding safe and potent ceremonial containers
Practical experience - by the end of the course, you will have facilitated three practice cacao ceremonies of different sizes and received feedback
Live Q&A calls throughout the course so you can get the support you need.
You won't be doing this alone. You will have a designated learning pod (pun intended 😉) to meet with, practice with, and receive feedback from. You will also have access to a community platform to connect with this network of like-minded cacao stewards from all over the world. 
The course is designed to be a living ceremony in itself - deepening your relationship with the spirit of cacao, with the Earth, and with yourself.  Because you can only hold space for others as deeply as you have come into intimacy with yourself.
Module 1: How Cacao is alchemized from farm to cup

Learn step-by-step how cacao is made from cacao tree, to fermentation, to cacao factory, to disc in your cup. By understanding the process, with the overlay of elemental alchemy, you'll be able to explain why ceremonial cacao is the medicine that it is.
Module 2: Designing for magic: Ceremony structure

Learn a tried and true cacao ceremony structure and then adapt it to your own practice. You will begin a daily cacao ceremony practice to cultivate your deepest-ever relationship with cacao.
Module 3: activation of your ceremonial ritual artistry

In this module we discuss the artistry of ceremony and the nuances of connecting with cacao powerfully. Working with cacao is a living relationship and we go into how to observe and tend to the relationship.
module 4: neurochemistry & contraindications

The moment you begin sharing cacao with others, you'll want to have as in depth of an understanding of how it may affect them. Learn about cacao's impact on your neurochemistry, how cacao interacts with other medicines, and important contraindications and side effects that people may encounter when drinking cacao.
module 5: fundamentals of skillful facilitation

Learn foundational skills for effective group facilitation that build trust & credibility in you as a facilitator.
module 6: creating a safe container

Learn to create an emotionally safe group container so that you can facilitate a truly deep and meaningful ceremonial experience.
module 7: facilitator self-care and self-assessment

Learn key tools and practices to tend to yourself as a facilitator. Learn how to approach cacao for guidance to see if you are ready to hold sacred space.
module 8: skillfully navigating cultural appropriation

There is a lot of confusion around the origin of cacao ceremony and a lot of hurt around the colonization of the Americas and the ensuing genocide of indigenous peoples that continues to this day. As a ceremonial practitioner you will be challenged on these topics. This module gives you the tools needed to address the issue of cultural appropriation with humility, awareness, and competency.
Module 9: easefuly Making cacao for groups of all sizes

Feel fully competent with the tools and methods needed to prepare cacao for groups large and small.
module 10: public offerings - money, marketing, and education

Get clear on how to market and communicate your cacao offering and how to feel good charging for your offering.
Module 11: Taking it back to mama earth

We remember that cacao is an invitation to connect back with life itself, to weave ourselves back into the web of life. This closing module reminds us how to work with cacao in right relationship and sacred reciprocity with the natural, living world around us.
Course Structure
This course is a mix of live Zoom calls, pre-recorded modules, and experiential learning assignments.
Key Course Dates:
January 8th - Opening Ceremony, 9:30am PST
February 2nd - Live Q&A, 12pm PST
March 1st - Live Q&A, 9am PST
March 9th - Grief Ceremony, 10:30am PST
March 22nd - Live Q&A, 9am PST
March 29th - Closing Ceremony, 9:30am PST
Course FAQs
How Long Is The Course?

This course runs for 11 weeks.
How much time per week will I need for this course?

You will need to set aside 2-3 hours each week for the lessons, assignments, and cacao ceremonies.
is there a payment plan?

If you use the ShopPay option at checkout, you will have the option to split the payment into four installments, paid every 2 weeks. This option is only available for people based in the US at this time.
Is the course pre-recorded or live?

This course is a mix of pre-recorded lessons and live all-course calls. You will also have a peer learning group for the course that you will practice cacao ceremony facilitation with.
Get To Know Your Instructor
Jonas, founder of Ora Cacao, will be guiding you through this learning journey.
Jonas has been steeped in the world of cacao for 9 years: creating relationships with the farmers Ora sources from, building the Ora Cacao factory from the ground up, and facilitating countless cacao ceremonies for thousands of people.
Learn more about Jonas