Tantric Rose Blossom
Take yourself on a tantric date, slowing down to savor the full experience of this sensual cacao. Find healing nourishment and support for your own heart blossoming with a full yes to your life. Whole rose petals act in high frequency synergy with our pure ceremonial cacao to connect you to the sublime joy of the present moment.

Ingredients
Cacao Beans from Tanzania, Pink Rose Petals from Morocco, Orange Peel from US, Damiana from Mexico, Licorice Root from Turkey.
Mood
Potent, Sensual, Heart Opening
Best For
Emotional Support and Intimacy
Flavor Profile

Rosé, Lavender, Bergamot (these are tasting notes, not ingredients)
VOLUME DISCOUNTS
Mix & match any of our cacaos. Automatic discounts applied in cart for 3 or more one pound bags or 2 or more five pound bags.
Contains 20 servings, $2.50 per serving
Regular price

Sale price

$50.00

Unit price

per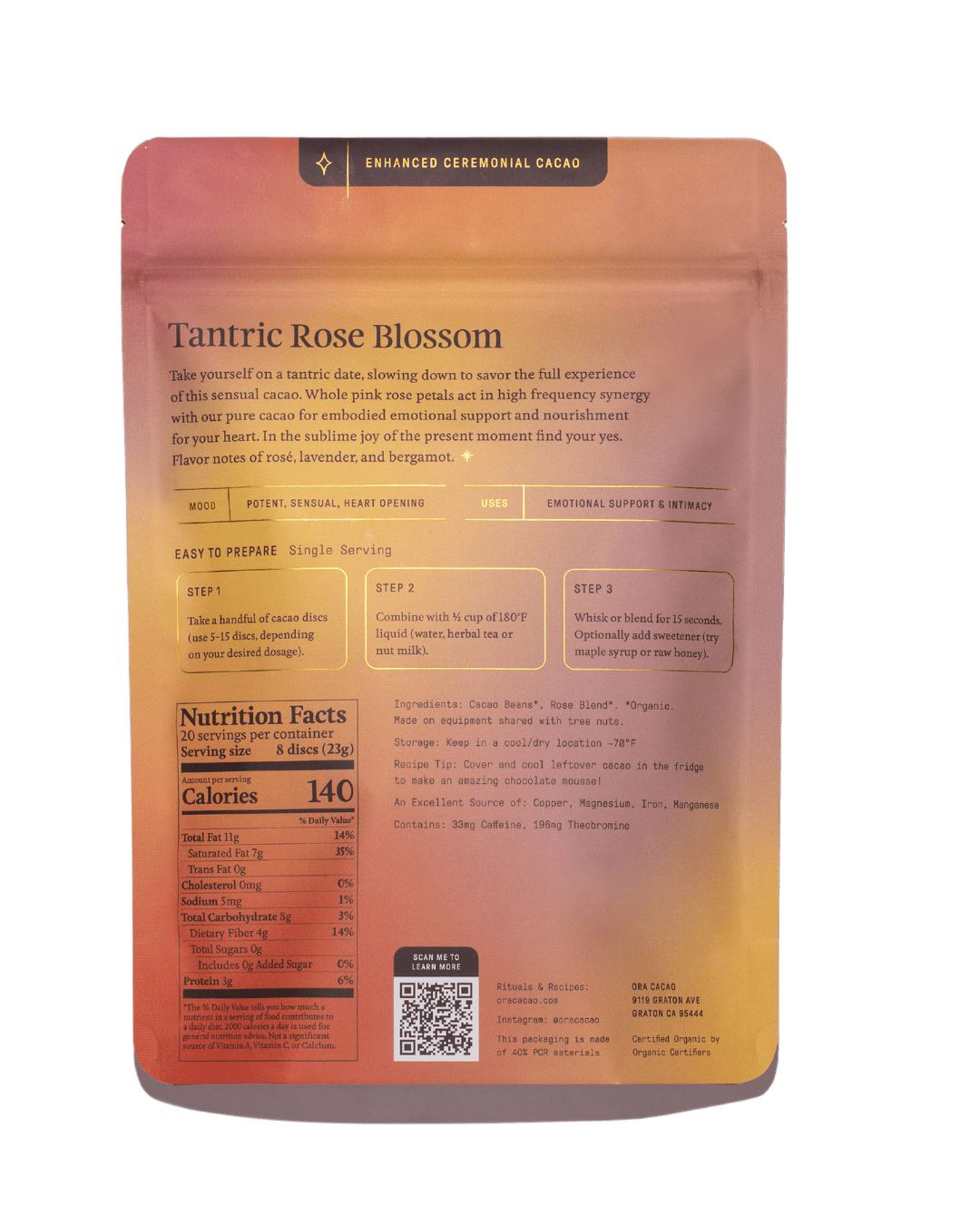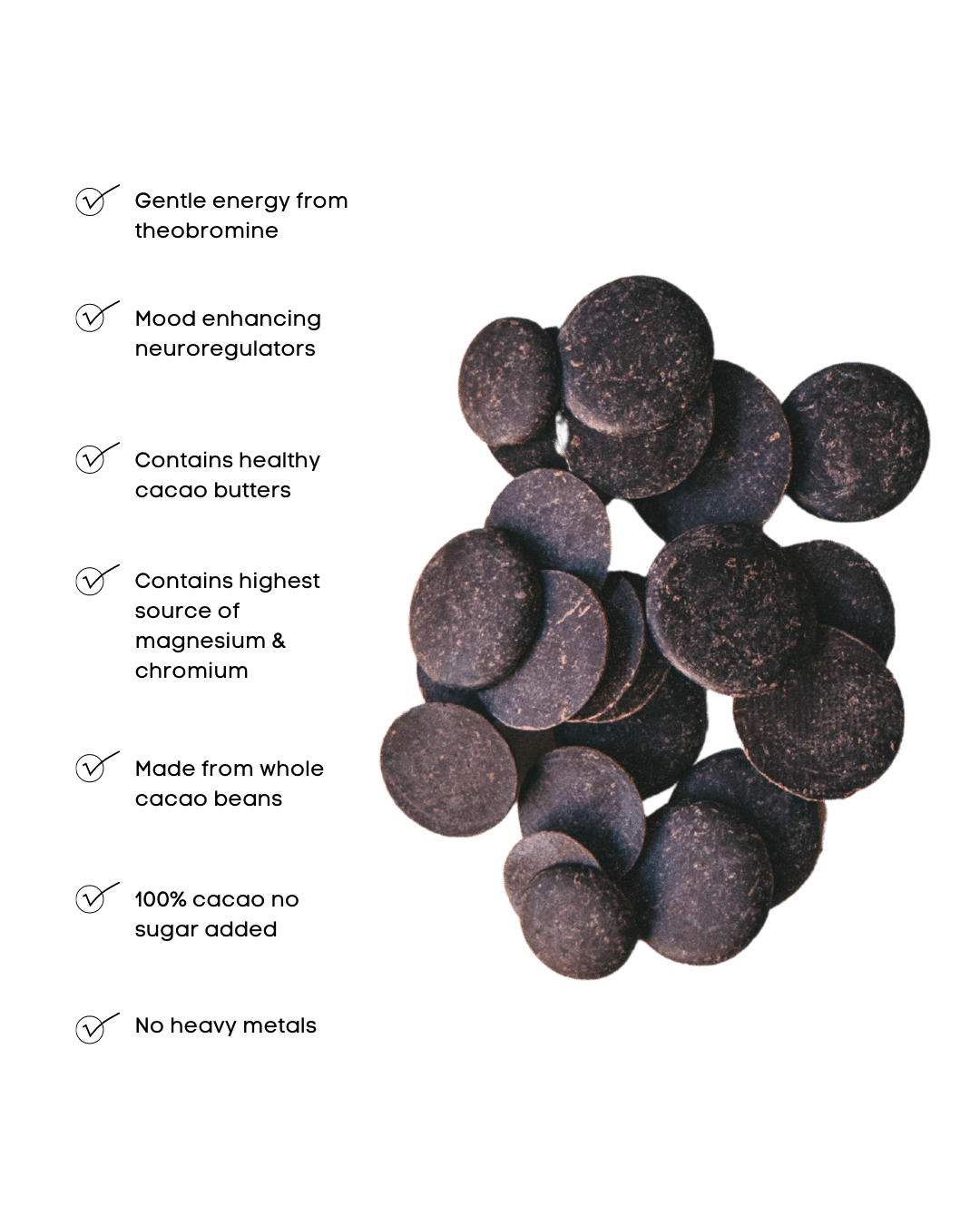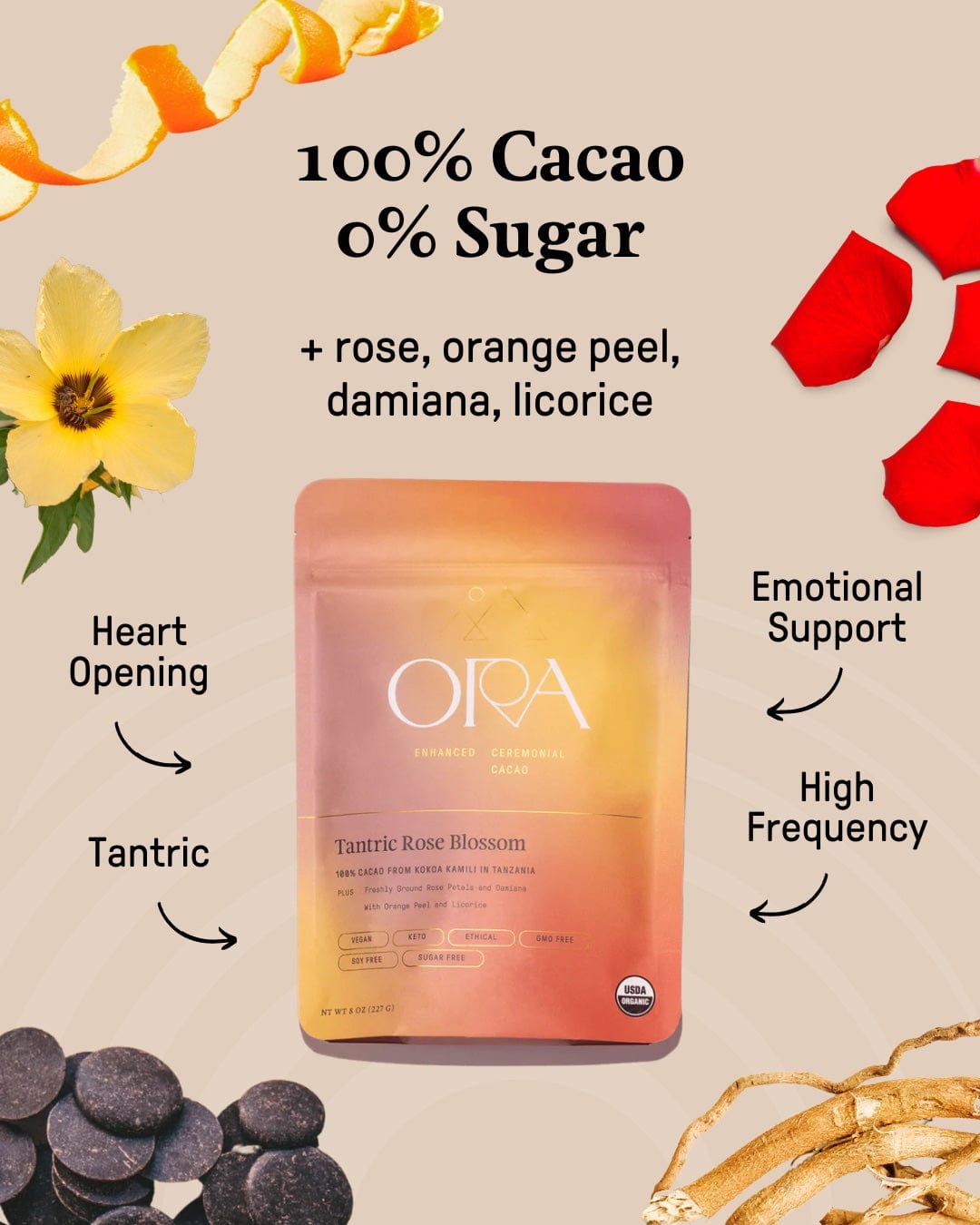 Ingredients
Getting the delicate flavor of rose to stand out in a flavorful batch of fresh 100% cacao was no easy task.
ROSE
Our solution was multifold, including sourcing extra aromatic roses from Morocco and Bulgaria, adding copious amounts of rose to our cacao, pairing it with the right cacao origin. For the highest quality and to avoid oxidation, we grind the rose petals to powder in a custom-built machine immediately before we add them to a batch of cacao. The powder is very fine and will leave all our factory coated in a light layer of pink!

ORANGE PEEL
Supporting the rose with orange peel powder was another part of our solution, as the citrus helps elevate the floral notes.

DAMIANA
An aphrodisiac, it is known to boost sexual potency. The damiana shrubs can be found on dry, rocky hillsides in Texas, California, Mexico, and Central America.

LICORICE ROOT
A lightly sweet and powerful antiviral, anti-inflammatory & immuno modulating herb commonly found in herbal medicine cabinets around the world.
Vegan
Keto
Ethical
GMO-Free
Soy-Free
Sugar-Free
Regenerative
Vegan
Keto
Ethical
GMO-Free
Soy-Free
Sugar-Free
Regenerative
Even though cacao on its own is very heart opening, I've always noticed an extra effect from the rose.
I feel my heart skip a beat in excitement when it is time to make a cup of rose cacao, and the rose cacao has supported me in so many moments to think more kindly about a situation or to be a better human in my relationships. There is some science to this: the bio-electrical frequency of plant compounds can actually be measured, and rose is by far the highest, at 320MHz. Ingesting high-frequency plant compounds raises the overall frequency of the body, and confers resilience to diseases and cancers. So far beyond a tasty and sensuous flavor, rose cacao we believe also improves our resilience to stressors and improves access to our spirit.

Connection and activation to the heart center and sacral center, the center connected to the sexual organs.
Tantric Rose's ingredients lend themselves to bringing about a connection to sensuality, loving nature, and ability to savor the experience of life and creativity. The damiana and pink rose petals in the Tantric Rose connect to sensuality through their aphrodisiacal effects.

Do you want a better way to eat superfoods?
We created enhanced cacaos as a convenient daily way to help you get important superfoods in your diet. Cacao is a vasodilator and cardiac stimulant, so when you ingest cacao with superfoods, they are absorbed deeper into your tissues because of the increased circulation. So you get both the benefits of cacao, an amazing superfood on it's own, and all of these additional ingredients. We also brought our expertise in sourcing to get the highest quality superfoods available.
Preparing Your Cacao
Step 1

Take a handful of cacao discs (use 20-25 discs, depending on your desired dosage).

Step 2

Combine with 1 cup of 180°F liquid (water, herbal tea or nut milk).

Step 3

Whisk or blend for 15 seconds. Optionally add sweetener (try maple syrup or raw honey).
Love this blend

This is a wonderful blend. Truly heart opening.

Swapped out coffee for Cacao and love it!

I'm loving the Rose Cacao! I love the soft and earthy flavor with a hint of floral. It's my favorite morning ritual.

Regular cacao staple in my cupboard

Love it! I need to keep a stash in my cupboard at all times

Wonderful way to begin the day

Absolutely love the flavor and feels of this Cacao perfect way to continue my spiritual growth and self love. ♥️

Decadent

When I need a extra dose of self love or indulgence I make a cup of Tantric Rose. I just love the creamy decadence of this blend with just a hint of rose. I make it extra special with a sprinkle of rose petals on top!

incredible

it tastes amazing, perfect level of bitterness and melts into a really nice smooth texture. I love that it is in little buttons and super easy to prepare. cannot recommend this enough

Amazing cacao

Excellent. Will be buying more

Rose Cacao

Love it! Plan on serving it for a full moon event with women in circle.

Heart opener for sure..

The rosy essence is delicious and just what I needed!

Celebrating Cacao

This cacao medicine is such a gift. During my first dose I found myself chanting mantras in the woods with deep remembering. My opened heart initiated me into sharing this cacao with my mother (her first time!) and then hosting a cacao ceremony for a group of women in my community. It was warmly received with such generosity by everyone. True healing took place as we generated a circle of radiant LIGHT. Thank you Ora - my journey with you has recently begun and I cannot wait to continue.
Reviews Loaded
Reviews Added
Answers to Frequent Health Questions
What are the Nutrition Facts?

Due to smaller disc size, please note serving size is 20-25 discs
Is Your Cacao Tested for Heavy Metals?

Our cacao has been lab tested for safety and meets comprehensive EU standards for absence of heavy metals. In particular all our cacao tests below detectable thresholds for lead, and all our cacao tests below government mandated limits for cadmium. We actually test for 68 different heavy metals, but our focus here is on lead and cadmium as those are of most public discussion.

So why is our cacao so much safer than other chocolate products out there? 

Let's look at cadmium specifically. Cadmium uptake is dependent on many variables, including cacao genotype, cacao tree age, and other trace metals present in the soil. Notably, the more depleted the soil is of other beneficial minerals such such as Zn, Ca, Mg, and Mn, and the younger the trees are, the higher the Cadmium uptake is. Because our cacao sourcing is focused more on quality than quantity, it is not farmed as intensively as the majority of global monoculture cacao production. Rather, our trees tend to be older and within polyculture agroforestry systems with rich soils - all factors that reduce cadmium uptake. The permaculture practices that our farmers use also regularly replenish the soils. So really, cadmium uptake has a substantial amount to do with farm management practices.




It's also interesting to note that cadmium is first accumulated in leaves, then cacao pod shells, then cacao beans. Proper handling and shelling of cacao beans can remove the husk, which has a higher concentration than the edible part, the bean. We take great care in our cracking and winnowing process to remove as much shell as possible, which also reduces cadmium concentration in the final product. With our recent factory upgrade, we actually acquired a cracker and winnower that is a state of the art German design, used in the chocolate industry for over fifty years! This results in the cleanest cacao nibs possible.
Are there any Contradindications?

We believe cacao has potential as a holistic therapy for depression, and we have encountered the effects of cacao during depressive episodes to be uplifting and stabilizing. It is our sincere hope that someday cacao could become a part of a clinically proven method for treating depression naturally, or as a method for assisting people in reducing their dependence on powerful pharmaceuticals. 




Because cacao is contraindicated with SSRIs, many people struggling with depression cannot take cacao because of the SSRI's they are medicating with. There is potential that people may be able to partially reduce their SSRI medication intake and supplement with ceremonial cacao, however medical studies on this need to be done to establish a verifiable protocol. If you are a medical practitioner and would like to collaborate with us on such a study, please let us know! Because pharmaceutical SSRIs have many side effects and ceremonial cacao is beneficial in so many other ways, we are hopeful that such a protocol would greatly benefit the lives of many people struggling with depression and other mood disorders.
What Minerals Does Cacao Have?

Consuming cacao can replenish minerals vital to our body. Magnesium is chronically deficient in the majority of western diets, and cacao is the highest naturally occurring source. Magnesium is used in all key brain functions, especially memory and concentration. It is also beneficial for the function of the heart, acting to relax blood vessels and decrease strain. Besides magnesium, cacao is also the highest naturally occurring source of chromium, and also high in copper, calcium, manganese, zinc, sulfur, iron, and phosphorus.
How Does Cacao Affect Mood?

Many ceremonial cacao lovers report a notable impact on their mood. There is substantial science that explains why ceremonial cacao is so beneficial. Pure cacao contains beneficial neurotransmitters and neuro-modulators already present in our brain. It also contains reuptake inhibitors that block the pathways that our bodies normally use to break down and recycle these beneficial mood altering molecules, so the good mood lasts for longer. In the long term, regularly working with ceremonial cacao can have therapeutic health benefits, including creating new neural pathways that change our daily experience to include more joy, love, and connection.

Top Molecules in Cacao

Some of the top mood altering molecules in cacao include:

Anandamide is commonly referred to as the bliss molecule, and is associated with the runner's high effect. It is actually the first endocannabinoid to be discovered, and it is well known for moderating pain. Cacao also has N-linoleoylethanolamine, which is the reuptake inhibitor for anandamide.

Phenylethylamine (PEA) - Helps with excitement, alertness, attention. Gives the perception of time slowing down.

Norepinephrine is commonly referred to as the joy molecule. It is both a neurotransmitter and a hormone,

Serotonin - Helps with wellbeing, and creates resistance to stress. Cacao also has MOA inhibitors that inhibit reuptake of serotonin.

Dopamine - Gives feelings of motivation and pleasure. Cacao also has MOA inhibitors that inhibit reuptake of dopamine.

Due to these molecules and many others, when you drink ceremonial cacao you may feel expansive, blissful, connected to self and/or others, inspired, connected to your intuition & vision, connected to spirit, grounded, emotions arise, and the movement of stuck energy. You can also experience increased blood flow, mood elevation, and a more expanded state of consciousness. Cacao is a vasodilator, meaning your blood vessels and muscular systems relax. When working with ceremonial doses of cacao, blood flow can increase by up to 30%, meaning that more blood (life force energy) is moving through your body and nourishing all of your systems.
Explore More Enhanced Cacao
CONNECTED TO THE SOURCE
FROM FARM TO CUP
Our hearts have been opened and our lives have been transformed through intimate contact with cacao, one of nature's greatest healing medicines. We hope in our relationship with you, you will receive many gems of wisdom compiled from countless hours in the field, that we hope will deepen your practice, connection and life.
Learn More
Not sure where to start with Cacao?
That's okay, you can try them all! Our best selling enhanced ceremonial cacao kit allows you to try all four of our sugar free enhanced cacaos!