ProSporous
This invigorating synergy of fruiting body 1:1 mushrooms extracts supports your mind, lungs, liver, and skin. Lion's mane is a neurotonic: it is the only mushroom known to support nerve growth. Cordyceps combats fatigue and improves respiratory function. Poria is a little known qi-tonic, providing vital upkeep for the liver. And tremella rejuvenates the skin and slows down it's aging.*
* These statements have not been evaluated by the Food and Drug Administration. This product is not intended to diagnose, treat, cure, or prevent any disease or health condition.
✓ Always grown outdoors in hoop houses, not in labs.
✓ Triple tested for safety & Mushroom compounds
BETA GLUCANS |
1146mg per serving
Serving size |
1 serving is 3 grams = 75 servings per package. We recommend 1-3 servings per day.
Storage |
Keep tightly closed in a cool, dry place. Shelf life is 3 years.
Regular price

$99.00

Sale price

$64.00

Unit price

per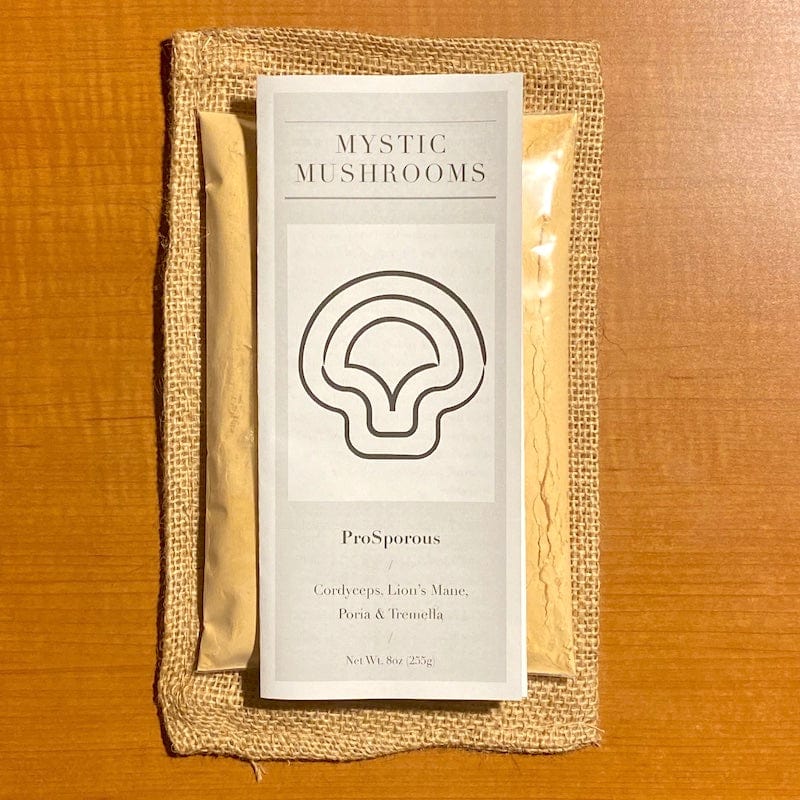 Fruiting Body
1:1 Water Extracted
Organic
Vegan
Non-GMO
No Grain
No Starch
No Fillers
Fruiting Body
1:1 Water Extracted
Organic
Vegan
Non-GMO
No Grain
No Starch
No Fillers
ProSporous Ingredients
Cordyceps

Lion's Mane

Poria

Tremella
Why do we offer a 1:1 extract?
Fruiting body mushrooms must be prepared properly for them to be bioavailable. Similar to ceremonial cacao, we believe that nothing should be added or removed. 
Pre-digesting the mushrooms with water extraction is a process that makes them more bioavailable than the raw mushrooms on their own.
A 1:1 extract starts by finely milling dried mushrooms. This powder is extracted for three hours in hot water at 80 C. After this extraction, much of the water is evaporated to produce a concentrated fluid. This fluid still contains the mushroom powder. This powder-filled fluid is sent to a spray drier which creates a fine powder. 
The most important takeaway of this process is the fact that the raw material is never separated from the extraction fluid.  This means that nothing from the original mushroom is lost or discarded.
Water extraction mobilizes the soluble beta-glucans and most other nutritional compounds from the fiber. Research has shown that the most immunologically active compounds in mushrooms are the soluble beta-glucans.
Why fruiting body only?
Sadly, the majority of the mushroom powders out on the market today use mycelium grown on a grain substrate that is allowed to be ground up (inclusive of the grain), and all together marketed as mushroom. 
Why is this bad? What most people actually want is the fruiting body. That's the part we see; the mushroom, and it concentrates many of the health benefits.
However, mycelium is a different stage in the life cycle than the fruiting body, so it doesn't offer nearly the same benefits. Mycelium when grown commercially also can't be separated from the grain it is grown on, so people are consuming a lot of starch filler.
It turns out the beta glucan testing, which purportedly shows the medicinal value of a mushroom product, also picks up on grain beta glucans. 
Unless you use a more advanced mushroom specific beta glucan test, it's the starch beta glucans that are making the myceliated grain products look good!
That's why we are really clear. No starch. No grains. No filler. Only fruiting body. And advanced testing to prove it.
Love this product

Love this. Already need more. Adding to my morning cacao.

Prosporous

I really enjoyed this and plan to purchase again. I enjoy every morning.

Amazing combination!

Easy to mix- taste fine added to almost anything-!
Reviews Loaded
Reviews Added
Want cacao with mushrooms?
Ora's Mystical Mushroom Enhanced Cacao is Belizean Cacao blended with 11 fruiting body mushrooms in convenient cacao discs.