Glowing Guatemala
If you are looking for an ally for deep self-inquiry, this cacao is made for you. It can awaken compassion, care, and the ability to reflect with love and honesty. Grown in the K'eqchi Mayalands, this cacao carries with it a strong, wise, yet graceful and mothering energy. It is perfect for a daily ritual of connection to self and when shared with community, activates our awareness to our inextricable connection to each other.
This cacao is grown in a remote village of 125 families located in the Alta Verapaz department - known as the mountains of True Peace. Their village is disconnected from the rest of the world except for a footbridge crossing the raging Cahabón river, and because of this, are still very much connected to their indigenous traditions as they have been able to resist outside influence. Thanks to this, their cacao traditions have remained intact and we have had the honor to learn directly from them during our in-person visits. The Indigenous families we work with make 90% of their income from cacao and we are proud to share that we buy all of the cacao produced by them.
From our farmers in Guatemala, B'antiosh - this is thank you in K'eqchi' Maya!
Ingredients
Organic Cacao Beans from Guatemala
Mood
Mothering, Strong, Wise
Best For
Insight and Inner Work
Flavor Profile

Fig, Tobacco, Leather (these are tasting notes, not ingredients)
VOLUME DISCOUNTS
Mix & match any of our cacaos. Automatic discounts applied in cart for 3 or more one pound bags or 2 or more five pound bags.
Contains 20 servings, $2.20 per serving
Regular price

Sale price

$44.00

Unit price

per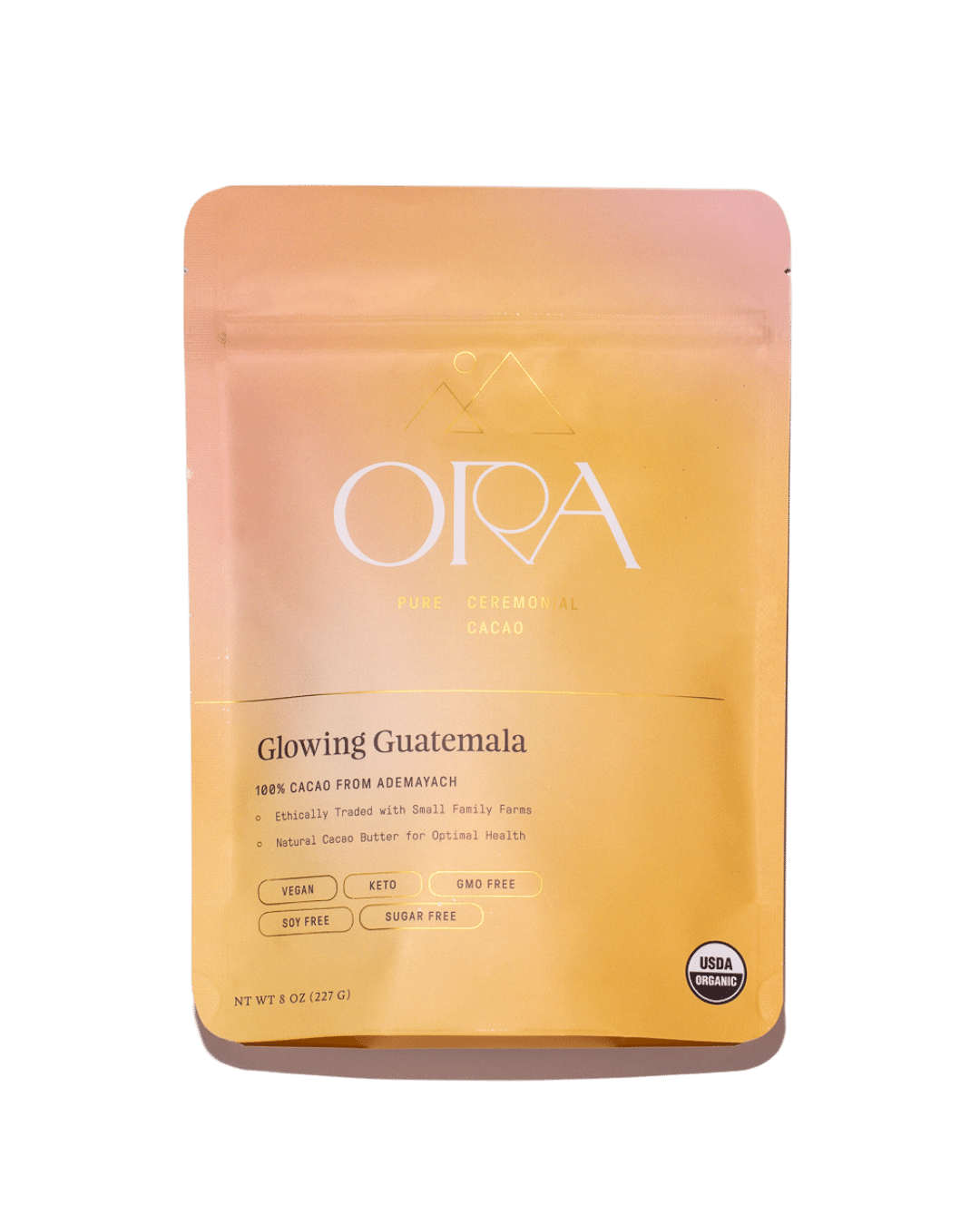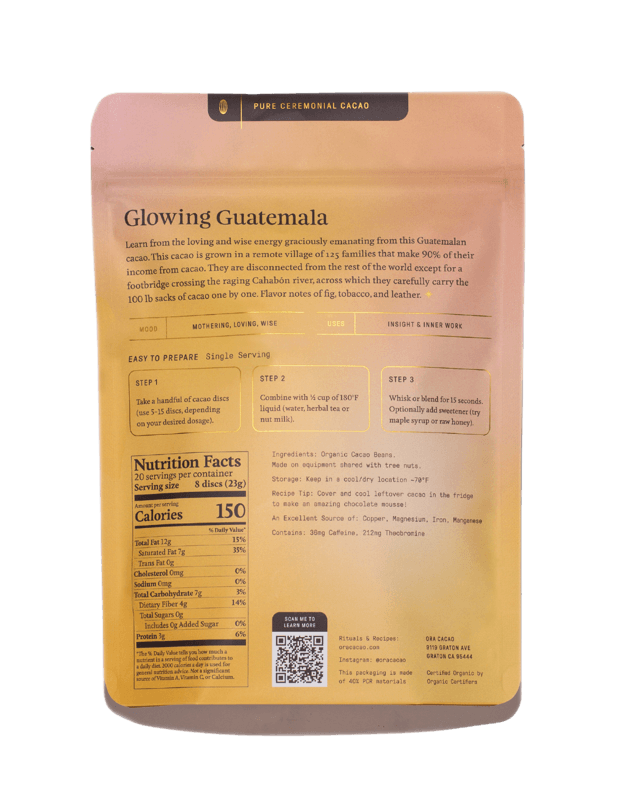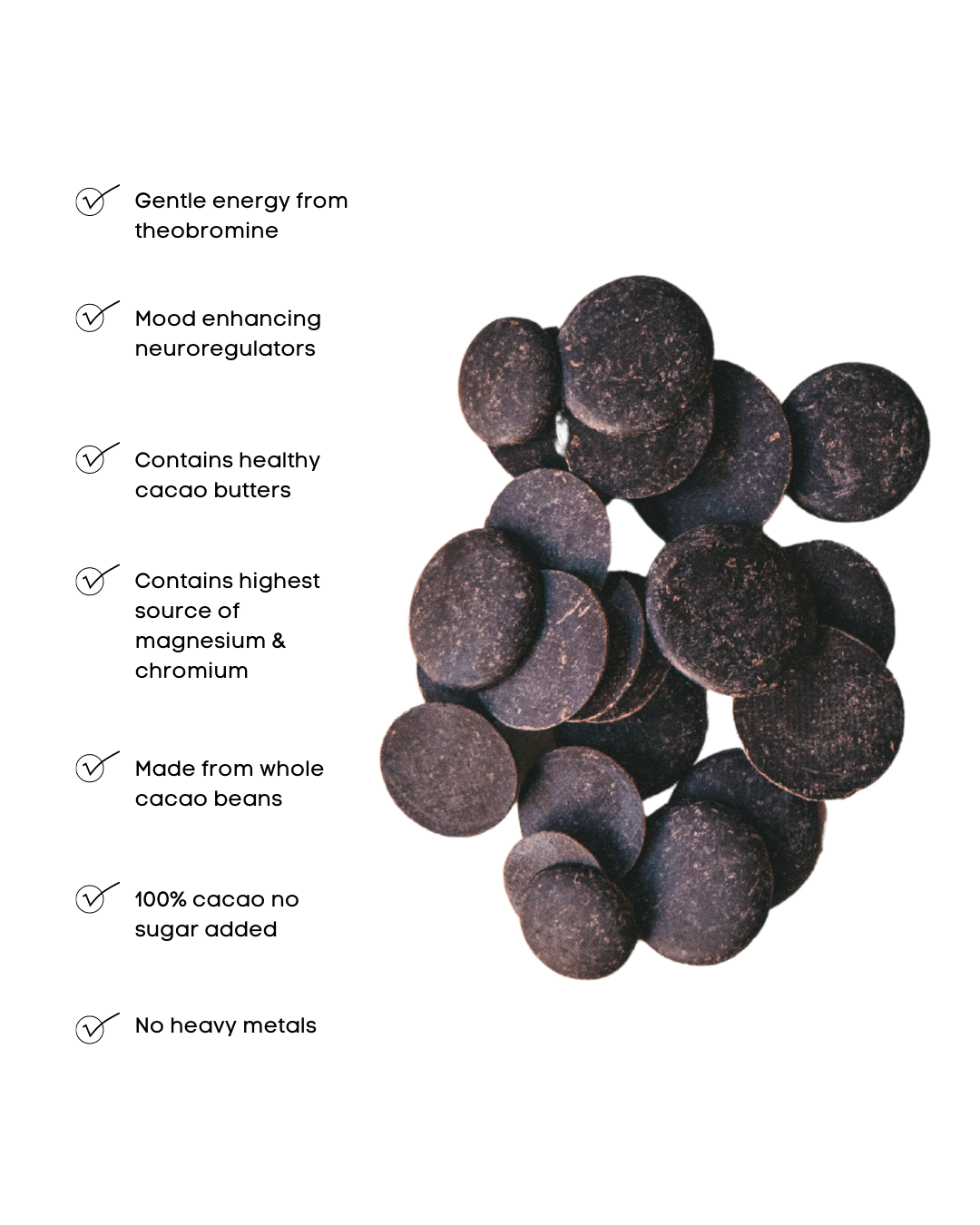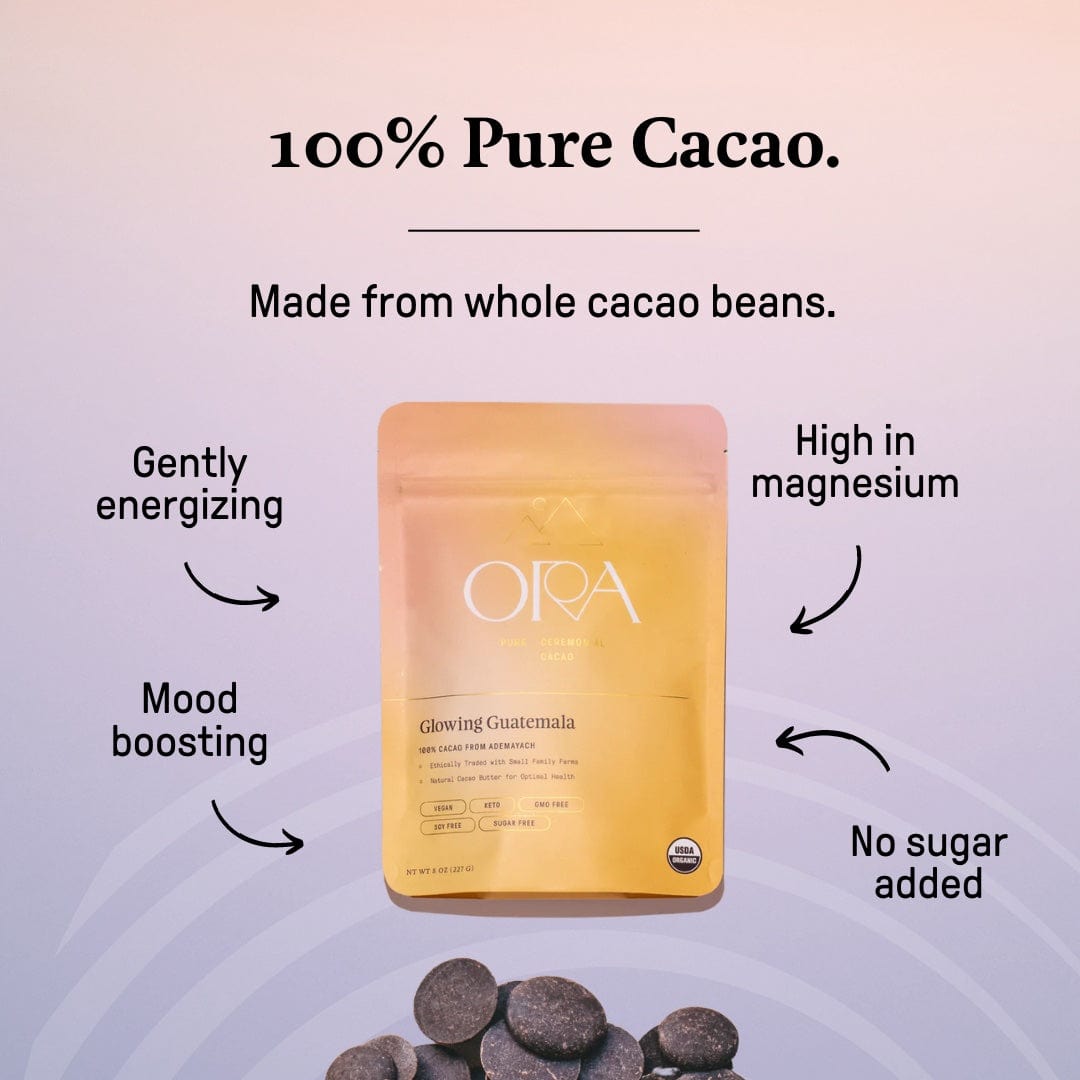 Join over 43,000 customers who love and trust Ora Cacao!
Stefanie S.

Verified Buyer

51 minutes ago

Divine!

I've tried cacao from other companies but nothing compares to Ora Cacao. This cacao blends so smooth and creamy with just hot water and a frothing tool. I've tried many varieties from Ora Cacao and they are all wonderful, but Glowing Guatemala is the one I keep coming back to. It's the best way to start my day and my morning practice. This is the heart opening medicine of Mama Cacao as she intended it!!! Truly Divine. 🌈💖

Loved this cacao.

This cacao offering has changed my life. Loving starting my days with it—delicious, energizing, connective. I just ordered some more.

Stephanie S.

Verified Buyer

2 weeks ago

A favorite of mine

This cocoa is magical, I love it. I am so happy to have found this brand.
Reviews Loaded
Reviews Added
Journey with Us to the Source ...
The Rio Cahabon, home of the community of Chivite
Roasting the fresh cacao beans to activate their flavor

Stone grinding the fresh cacao beans into a paste
The Maya community of Chivite gathered together
The community of San Juan Chivite is based entirely within a 180-hectare cacao farm, abandoned by its owner during the terrible Guatemalan civil war in the 1980's and handed over in 1985 to the 65 families who were former workers of the farm. In 2002, the families converted a portion of the farm that was formerly coffee over to cacao, and as the community has grown from 64 to 125 families today, cacao cultivation remains the source of over 90% of the community's income.

The fate of this region stand in stark contrast to other regions of Guatemala, for example the south coast where many cacao farmers had to sell their farms for money and sugar cane, rubber and palm oil took over. Now thousands of hectares are dedicated to farming those products which has introduced chemicals and pollution, and led to habitat loss. Many people have left the villages because of the pollution, and have gone to cities or illegally immigrated to the US.

To get here, one must take the road less travelled from Lanquín, which is the third most popular tourist destination in Guatemala due to Semuc Champey, one of the top ten wonders of the world. Semuc Champey features turquoise limestone pools and underground rapids as the Cahabon river flows through the cave. The region was once surveyed for the construction of a dam but fortunately nothing was built. When we came for our first visit, the community was still apprehensive of outsiders due to this reason. Now new development is coming to the region in the form of a paved road, so our work supporting the traditional cacao farming communities is of critical importance. Besides cacao, the region export coffee and cardamom, and grows abundant corn and black beans for the local market.

Our farmers speak Q'eqchi' Maya, one of over twenty indigenous languages still spoken in Guatemala today. The cacao farmers we work with here have some of the most intact knowledge of cacao we've seen across all of our sourcing trips, and central to their life style is belief in the mountain spirits, and a strong ethic of respecting nature and the environment. A typical greeting is "Masal chol" which translate to "How is you heart?" In response, one could reply "Saa mantiosh", which translates to "Good, thank you!" The local river, the Cahabón, is a Q'eqchi' Maya name that means red dust, referencing the red dirt and soil of the riverbed. It's a long river that runs through about 10 rural towns into Lago de Izabal.

The village and farms are accessible only by a swinging bridge over the wide, rushing Cahabón river. To process their cacao, cacao farmers carry 100-lb sacks over the bridge on their backs, because the fermentery and drying facility is located on the other side of the river, closer to the only road in the valley. This hanging bridge collapsed during a massive rain storm in 2020, and the Firefly community rallied to donate for the construction of a new, sturdier bridge.

The farmers sell their cacao to an independently run cacao association that manages their post harvest fermentation and drying. This association (called ADEMAYACH) is governed by 10 organic farmers in a council style, non-hierarchical board. In 2016 the village built their first centralized fermentery and drying decks allowing the farmers to add more quality and value to their crop, and helped them bypass middlemen (commonly called "coyotes") that offered the farmers poor prices. They also received organic certification in 2016, and in addition to the impact from our cacao purchases, Firefly supports the annual salary for the organic cacao fermentation manager.

Preparing Your Cacao
Step 1

Combine about 25 cacao discs with a touch of sweetener (or drink pure).

Step 2

Add 3/4 cup (6oz) hot water, tea, or mylk (~180F).

Step 3

Use a blender or electric frother to mix for 10 seconds.
Ethical Trade
Regenerative Agroforestry
USDA Organic
Sugar-Free
Third Party Metals Tested
Vegan & Keto
GMO-Free & Soy-Free
Ethical Trade
Regenerative Agroforestry
USDA Organic
Sugar-Free
Third Party Metals Tested
Vegan & Keto
GMO-Free & Soy-Free
Answers to Frequent Health Questions
What are the Nutrition Facts?
Is Your Cacao Tested for Heavy Metals?

Yes! We take heavy metals in cacao very seriously and have been testing long before the recent media attention on the topic.

All of our cacao has no detectable levels of lead. Lead is a post harvest contaminant that is introduced onto cacao beans through air and soils pollution. Since we source from remote and pristine regions with exacting standards, we have never had any presence of lead in our cacao tests.

All of our cacao also tests well below the legal limits for cadmium. Cadmium is present in many soils and impacts much of the food that we eat. Even if you were to consume cacao daily and it had the legal limit of cadmium in it, experts estimate that is would contribute at most 10% of your daily cadmium intake that comes from other grains and vegetables.

We've been talking with people daily to assure them that they will not die from heavy metals poisoning because of their love of chocolate. We strongly believe big chocolate needs to be held accountable for poor quality of their products. We're also disappointed that a lot of the recent media didn't contextualize the many cadmium sources people have in their diets (not just cacao), and that there are very large factors of safety that are used to determine the legal limits.

Here's a good third party perspective on the topic: https://arstechnica.com/health/2023/11/despite-spooky-consumer-reports-testing-metals-in-chocolates-arent-scary/
Is Cacao A Stiumulant?

Ceremonial cacao is a great coffee replacement because it offers a grounded energy boost without the jitters and crash. You can fully or partially substitute your cup of coffee with a cup of cacao. If you are new to cacao we recommend drinking it before 2pm so that the stimulant effect has time to clear before you need to sleep.

The dominant stimulant molecule in cacao is theobromine, which is a a cardiac stimulant, as opposed to caffeine which is a nervous system stimulant. Theobromine is also a vasodilator (it relaxes blood vessels), so it has a neutral effect on blood pressure. The improved circulation from cacao is excellent for cardiac health, and improves absorption of the nutrients in cacao and superfoods that it is paired with.

Overall, theobromine is only about one quarter as stimulating as caffeine, and it has a much longer half life in the liver, meaning that it's effect on the body is softer and longer for sustained energy.
How Does Cacao Affect Mood?

In the long term, regularly working with ceremonial cacao can have therapeutic health benefits that include creating new neural pathways that change our daily experience to include more joy, love, and connection.

That's because cacao is full of beneficial neurotransmitters and neuro-modulators. It also contains reuptake inhibitors that block the pathways that our bodies normally use to break down and recycle these beneficial mood altering molecules, so the good mood lasts for longer.

Some of the top mood altering molecules in cacao include:

Anandamide is commonly referred to as the bliss molecule, and is associated with the runner's high effect.

Phenylethylamine (PEA) gives the perception of time slowing down, and helps with excitement, alertness, attention.

Norepinephrine is commonly referred to as the joy molecule. It is both a neurotransmitter and a hormone.

Serotonin - Helps with wellbeing, and creates resistance to stress. Cacao also has MOA inhibitors that inhibit reuptake of serotonin.

Dopamine - Gives feelings of motivation and pleasure. Cacao also has MOA inhibitors that inhibit reuptake of dopamine.

Due to these molecules and many others, when you drink ceremonial cacao you may feel expansive, blissful, connected to self and/or others, inspired, connected to your intuition & vision, connected to spirit, grounded, you may have emotions arise, and you may experience the movement of stuck energy. Gives the perception of time slowing down.
What Minerals Does Cacao Have?

Consuming cacao can replenish minerals vital to our body. Magnesium is chronically deficient in the majority of western diets, and cacao is the highest naturally occurring source. Magnesium is used in all key brain functions, especially memory and concentration. It is also beneficial for the function of the heart, acting to relax blood vessels and decrease strain. Besides magnesium, cacao is also the highest naturally occurring source of chromium, and also high in copper, calcium, manganese, zinc, sulfur, iron, and phosphorus.
Are there any Contradindications?

Cacao is contraindicated with SSRIs. Unfortunately that means many people struggling with depression and other mental illnesses cannot take cacao because of the SSRI's they are medicating with. There is potential that people may be able to partially reduce their SSRI medication intake and supplement with ceremonial cacao, however medical studies on this need to be done to establish a verifiable protocol.

Besides this, we highly recommend being well hydrated before, during, and after drinking cacao.
Explore More Pure Ceremonial Cacao
Not sure where to start with cacao?
That's okay, you can try them all! Our best selling pure ceremonial cacao kit allows you to try all four of our 100% single origin cacaos!