Thriving Tanzania
This first ceremonial cacao from Africa is grown amidst the laughter and close relationships of thriving village life. Amidst extensive rice and banana crops, seven hundred certified organic farmers within the biodiverse Kilombero Valley grow cacao for Kokoa Kamili, who takes utmost care to ferment and dry the cacao to exacting standards that offer the best quality on the continent. From our farmers in Tanzania, "Asante" - this is Swahili for thank you!
This ceremonial cacao comes from 700 small (0.5-2 acre) organic family farms in the Kilombero Valley, which borders Udzungwa Mountains National Park, a spot known for its biodiversity. Our partners here are Kokoa Kamili (Quality Cacao in Swahili), and their model is inspired by our partners in Belize. In its first three years, Kokoa Kamili farmers have received the highest prices for cacao in Tanzania. The cacao from this region is exceptional as a pure dark chocolate as it has a higher cacao butter content than average, resulting in a silky smoothness.
Read more about how the cacao is grown and see photos from our Tanzania trip here.
Ingredients
Organic Cacao Beans from Tanzania
Mood
Focused, Clarifying, Uplifting
Best For
Studying and Taking Action
Flavor Profile

Butter, Cherry, Caramel (these are tasting notes, not ingredients)
VOLUME DISCOUNTS
Mix & match any of our cacaos. Automatic discounts applied in cart for 3 or more one pound bags or 2 or more five pound bags.
Contains 20 servings, $2.20 per serving
Regular price

Sale price

$44.00

Unit price

per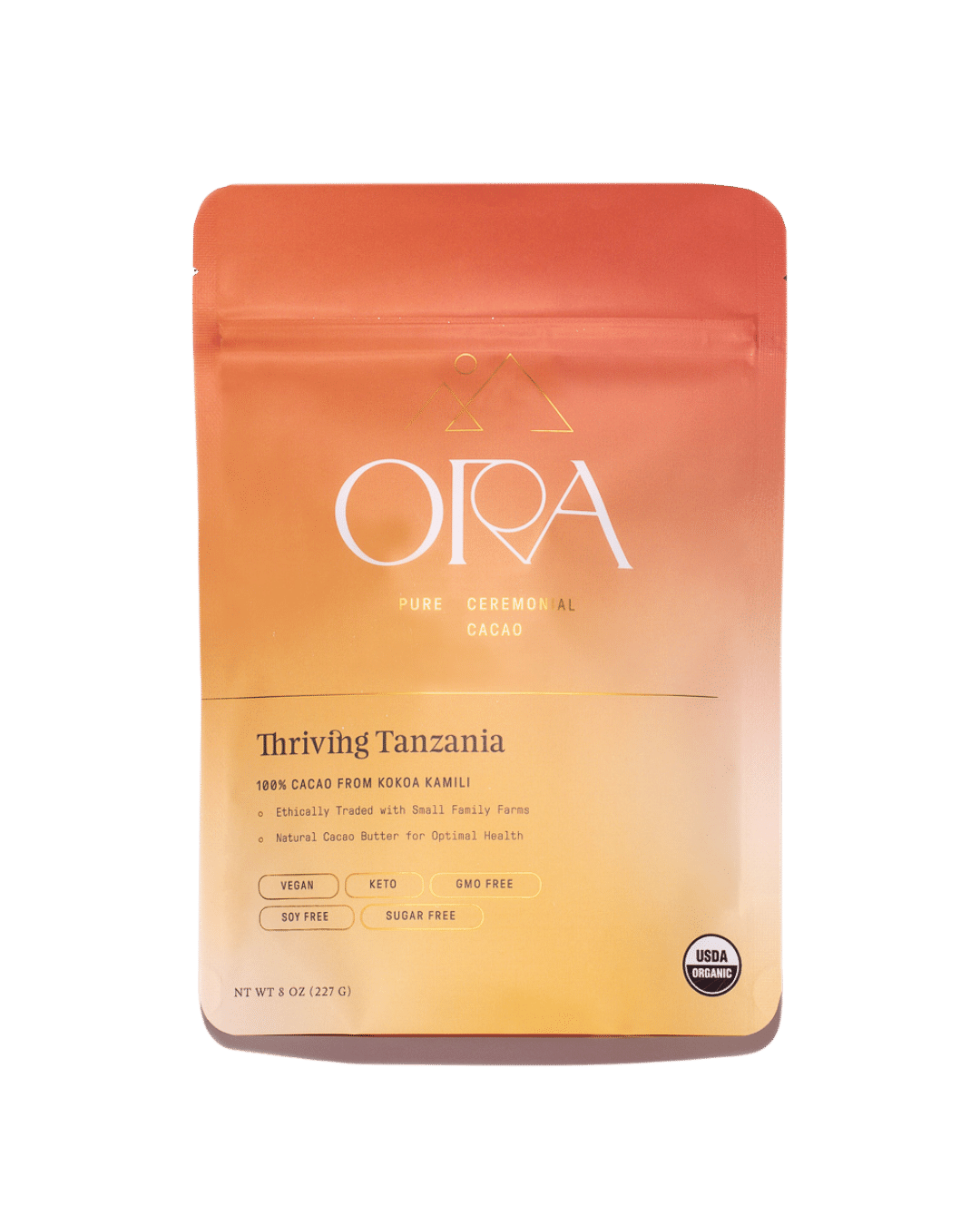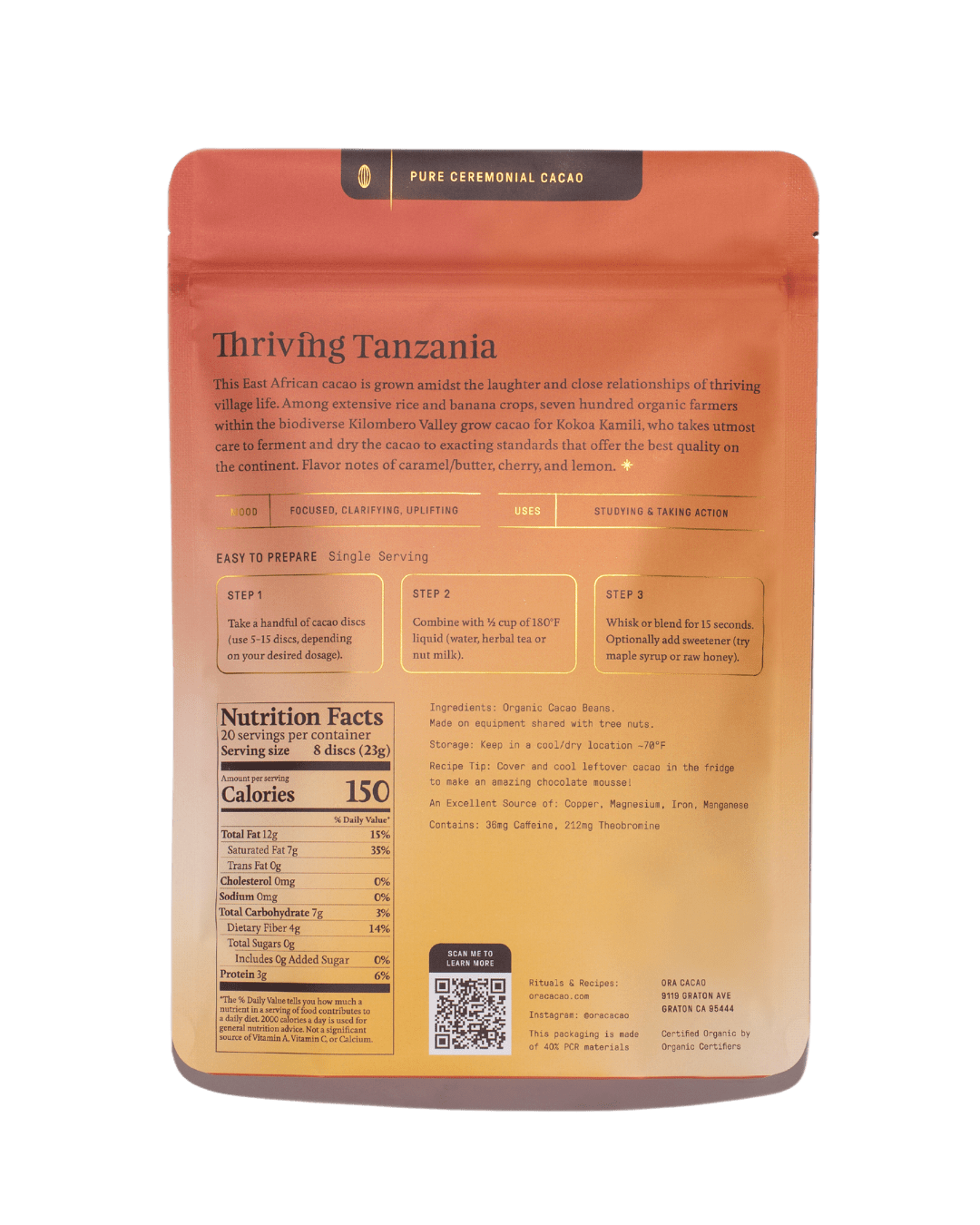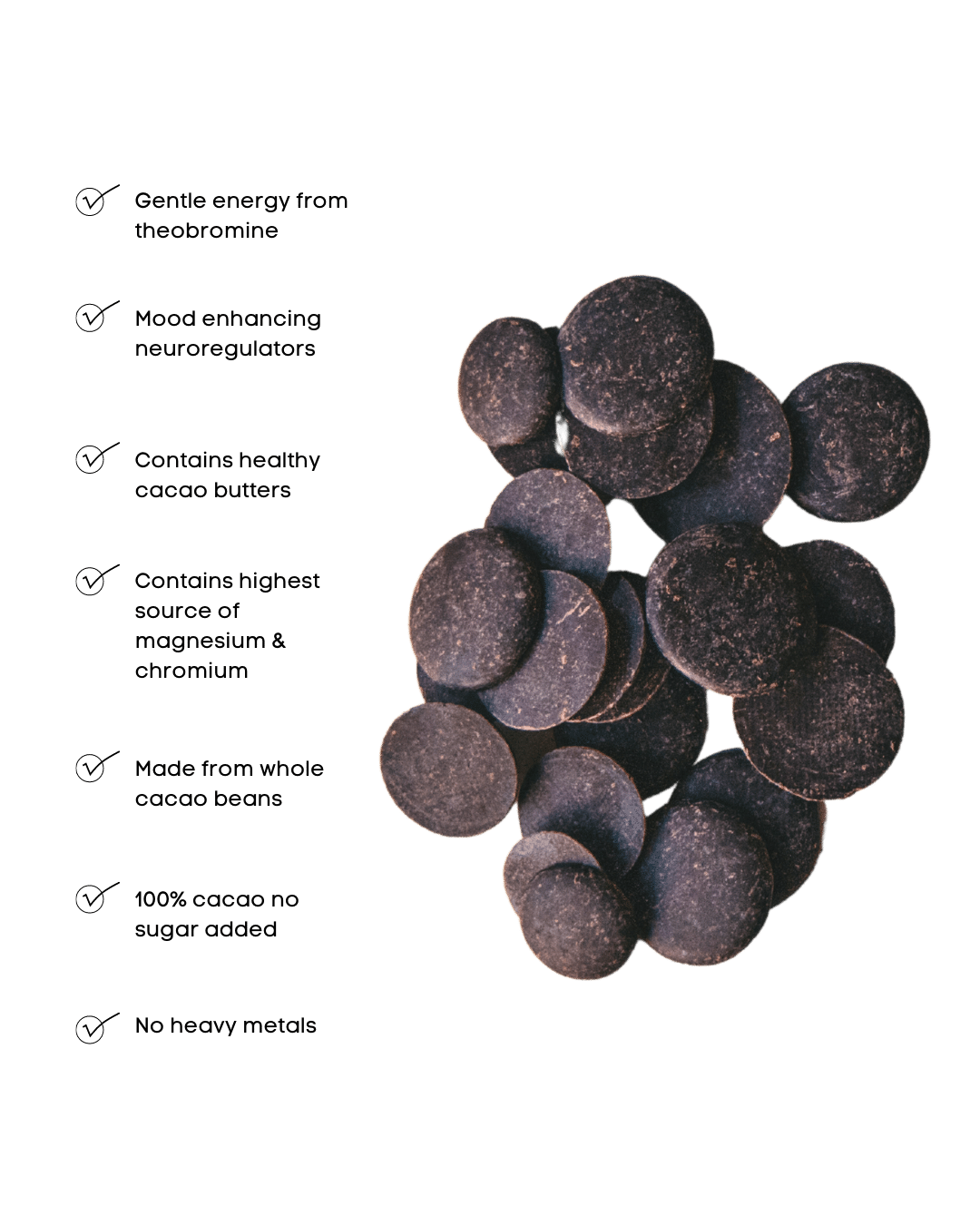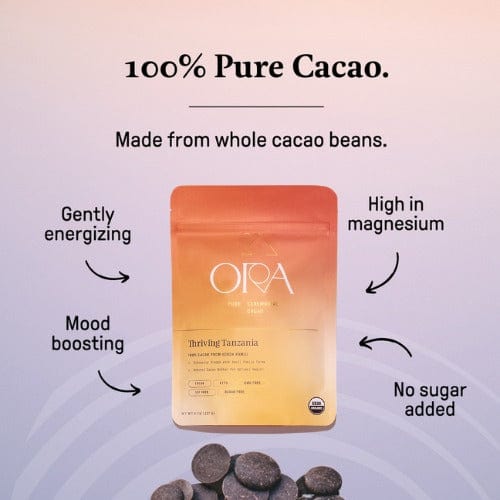 Journey with Us to the Source ...
Young theobroma cacao seedlings in the nursery
A big bucket of wet cacao ready to begin fermentation

Opening the cacao pods to extract the seeds
Sarah's farm with a big harvest of ripe cacao pods
Amidst extensive rice and banana crops, certified organic farmers within the biodiverse Kilombero Valley grow cacao for Kokoa Kamili, who takes utmost care to ferment and dry the cacao to exacting standards that offer the best quality on the continent.
The heart of Kokoa Kamili is the headquarters located in Mbingu, which translate to "heaven" in Swahili, and is one of the most peaceful and remote places we've been. The cacao trees grow in the driest climate we've seen, however are thriving due to a high water table that is supported by a very wet rainforest preserve in the nearby mountains. People were extraordinarily welcoming and eager to teach us Swahili - welcome in Swahili is "karibu". To get here one must travel 24 hours by plane to Dar Es Salaam, the capital of Tanzania, and then drive an additional 13 hours of driving across two days, the last four hours only on bumpy dirt roads.

Fortunately the long journey to Mbingu is not without its rewards - our drive took us through Mikumi National Park, and that whole stretch our eyes were glued to the giraffes, monkeys, and gazelles casually moving through the brush. We had never seen so many animals in the wild, and such big ones! We stopped here for a half day safari, which was way more nature connected than the touristy attraction we had expected.
The country of Tanzania was originally created as a German colony, then given to the UK after WW1. In the 1960s Tanzania was granted independence. The country is highly diverse, with a population that is evenly split Muslim and Christian, and about 120 tribes with a largely oral and nomadic history. The government implemented a unique policy that required all Tanzanians to move to a different part of the country from their home village where they grew up. This policy mixed the population, creating a strong national identity and pride to be Tanzanian with a lot of tolerance for differences, rather than the tribal and religious sectionalism that affects so many other countries.

The region is very impoverished, and cacao is having a scalable and impressive social impact even beyond the farms. The post harvest processing facility of Kokoa Kamili is unique in the cacao world as we've seen it. They employ 25-30 workers, which in this region with very little opportunity has a massive impact. Only three of the workers had any sort of formal job before, ever in their lives! So you can imagine the huge impact this has for self worth and financial mobility. Typical agricultural work in Tanzania is very hierarchical and cut throat, and the minimum wage is TZ 3750, which is extremely impoverished at less than $2/day. By contrast, the workers at the fermentery have a fun work place with no hierarchy. It's self evident with the laughter and enjoyment that the team comes to work with and the lively conversation at the shared mid-day meal.

The founders of Kokoa Kamili also regularly re-invest into their staff. When they wanted to promote one of their workers to become a cacao buyer, but she didn't know how to ride a motorcycle, they taught her in the off season and she got licensed. Now she's the second woman in her whole village to ride a motor cycle … no doubt inspiring many of the young women growing up here. This is just one example of many similar stories.
Kokoa Kamili adapted the same model of purchasing wet cacao from many small farmers that had been so successful in Belize to Africa. They had to get politically active to make it possible, as the local district government was going to ban wet cacao purchasing, mostly to emulate successful cacao growing regions of the south, even though there was no apparently good explanation for the ban on wet cacao purchasing. Given a year trial Kokoa Kamili managed to overcome the ban and then went on to create a local quality standard, by rejecting (not purchasing) any cacao beans that were rotten, had insect damage, etc. Over the years the farmers came to know what is desired and they only deliver the best cacao to Kokoa Kamili!

Preparing Your Cacao
Step 1

Take a handful of cacao discs (use 20-25 discs, depending on your desired dosage).

Step 2

Combine with 1 cup of 180°F liquid (water, herbal tea or nut milk).

Step 3

Whisk or blend for 15 seconds. Optionally add sweetener (try maple syrup or raw honey).
Vegan
Keto
Ethical
GMO-Free
Soy-Free
Sugar-Free
Regenerative
Vegan
Keto
Ethical
GMO-Free
Soy-Free
Sugar-Free
Regenerative
Excellent cacao

I loved this super creamy delicious cacao! Makes for a magical morning ritual ❤️

I really love Ora, the rituals, the writings, the integrity, the sacredness within which it is all held, the cacao!

I like them all

I like this one but I have to say I like them all! I put them in my coffee or make a special cocoa with raw honey and almond milk for my husband. He likes it too!

Amazing

Soooo yummy! I drink mine with coconut sugar and almond milk.

A Loving & Peaceful Teacher

My journey with Ora Cacao began in 2017, then known as "Firefly Chocolate". I first worked with their lovely, Glowing Guatemala and have since tried other beautiful offerings from Ora Cacao. Most recently, I ordered, Thriving Tanzania, and what a deep, peaceful journey I am on with her! She has guided me to such a tranquil place within myself… giving me clarity, focus, and as with all other Ora offerings, a deeper connection to self-love and love for life. Each time I sit with this new friend, Thriving Tanzania, I gain new perspective, and a deep appreciation for the present moment, my life spark and I savor listening to the personal messages she brings to me. Big heartfelt THANK YOU for the work you are doing Ora, in bringing such a healing, plant into our lives.🙏🤎

~ Lisa Lipshultz

@magikblooms

A small, love-filled, tribute to this beautiful cacao:

https://www.instagram.com/reel/CuX6BVhu1Ky/?igshid=MzRlODBiNWFlZA==

The purest and so good

I love everything about this cacao. It's one of my favorite pure cacaos because the flavor is so rich. I found the tasting notes accurate.

More than my coffee replacement!

I love love Thriving Tanzania. I mix her every morning in my burdock tea with coconut cream. I feel nourished and calm. Ever since I replaced my morning caffeine with Thriving T, my pms cramps have also vanished. Must be all the magnesium that raw cacao contains. I recommend this to all my clients who suffer from hormonal changes and cramps too! Thank you.

Fantastic for my morning rituals

I e been adding Cacao to my morning ritual of meditation. This uplifts and brings clarity to my time of silence. Very delicious addition and safe on my stomach.

Thriving!

Incredible flavor profile! Favorite blend for morning meditation 💗

One of my all-time faves!!

I absolutely love Thriving Tanzania- it brings so much calm and relaxation to me as well as focus and creativity! I alternate between this and Boundless Belize- such a wonderful ritual every morning!! This is a picture of a little cacao ceremony I did with a friend - she will be ordering some too!

The Best for Focus and Calm

Thriving Tanzania is so good any time, especially when I need to stay focused or do lots of research. It's calming and delicious. Definitely one of my favorites from Ora!
Reviews Loaded
Reviews Added
Answers to Frequent Health Questions
What are the Nutrition Facts?

Due to smaller disc size, please note serving size is 20-25 discs
Is Your Cacao Tested for Heavy Metals?

Our cacao has been lab tested for safety and meets comprehensive EU standards for absence of heavy metals. In particular all our cacao tests below detectable thresholds for lead, and all our cacao tests below government mandated limits for cadmium. We actually test for 68 different heavy metals, but our focus here is on lead and cadmium as those are of most public discussion.

So why is our cacao so much safer than other chocolate products out there? 

Let's look at cadmium specifically. Cadmium uptake is dependent on many variables, including cacao genotype, cacao tree age, and other trace metals present in the soil. Notably, the more depleted the soil is of other beneficial minerals such such as Zn, Ca, Mg, and Mn, and the younger the trees are, the higher the Cadmium uptake is. Because our cacao sourcing is focused more on quality than quantity, it is not farmed as intensively as the majority of global monoculture cacao production. Rather, our trees tend to be older and within polyculture agroforestry systems with rich soils - all factors that reduce cadmium uptake. The permaculture practices that our farmers use also regularly replenish the soils. So really, cadmium uptake has a substantial amount to do with farm management practices.




It's also interesting to note that cadmium is first accumulated in leaves, then cacao pod shells, then cacao beans. Proper handling and shelling of cacao beans can remove the husk, which has a higher concentration than the edible part, the bean. We take great care in our cracking and winnowing process to remove as much shell as possible, which also reduces cadmium concentration in the final product. With our recent factory upgrade, we actually acquired a cracker and winnower that is a state of the art German design, used in the chocolate industry for over fifty years! This results in the cleanest cacao nibs possible.
Are there any Contradindications?

We believe cacao has potential as a holistic therapy for depression, and we have encountered the effects of cacao during depressive episodes to be uplifting and stabilizing. It is our sincere hope that someday cacao could become a part of a clinically proven method for treating depression naturally, or as a method for assisting people in reducing their dependence on powerful pharmaceuticals. 




Because cacao is contraindicated with SSRIs, many people struggling with depression cannot take cacao because of the SSRI's they are medicating with. There is potential that people may be able to partially reduce their SSRI medication intake and supplement with ceremonial cacao, however medical studies on this need to be done to establish a verifiable protocol. If you are a medical practitioner and would like to collaborate with us on such a study, please let us know! Because pharmaceutical SSRIs have many side effects and ceremonial cacao is beneficial in so many other ways, we are hopeful that such a protocol would greatly benefit the lives of many people struggling with depression and other mood disorders.
What Minerals Does Cacao Have?

Consuming cacao can replenish minerals vital to our body. Magnesium is chronically deficient in the majority of western diets, and cacao is the highest naturally occurring source. Magnesium is used in all key brain functions, especially memory and concentration. It is also beneficial for the function of the heart, acting to relax blood vessels and decrease strain. Besides magnesium, cacao is also the highest naturally occurring source of chromium, and also high in copper, calcium, manganese, zinc, sulfur, iron, and phosphorus.
How Does Cacao Affect Mood?

Many ceremonial cacao lovers report a notable impact on their mood. There is substantial science that explains why ceremonial cacao is so beneficial. Pure cacao contains beneficial neurotransmitters and neuro-modulators already present in our brain. It also contains reuptake inhibitors that block the pathways that our bodies normally use to break down and recycle these beneficial mood altering molecules, so the good mood lasts for longer. In the long term, regularly working with ceremonial cacao can have therapeutic health benefits, including creating new neural pathways that change our daily experience to include more joy, love, and connection.

Top Molecules in Cacao

Some of the top mood altering molecules in cacao include:

Anandamide is commonly referred to as the bliss molecule, and is associated with the runner's high effect. It is actually the first endocannabinoid to be discovered, and it is well known for moderating pain. Cacao also has N-linoleoylethanolamine, which is the reuptake inhibitor for anandamide.

Phenylethylamine (PEA) - Helps with excitement, alertness, attention. Gives the perception of time slowing down.

Norepinephrine is commonly referred to as the joy molecule. It is both a neurotransmitter and a hormone,

Serotonin - Helps with wellbeing, and creates resistance to stress. Cacao also has MOA inhibitors that inhibit reuptake of serotonin.

Dopamine - Gives feelings of motivation and pleasure. Cacao also has MOA inhibitors that inhibit reuptake of dopamine.

Due to these molecules and many others, when you drink ceremonial cacao you may feel expansive, blissful, connected to self and/or others, inspired, connected to your intuition & vision, connected to spirit, grounded, emotions arise, and the movement of stuck energy. You can also experience increased blood flow, mood elevation, and a more expanded state of consciousness. Cacao is a vasodilator, meaning your blood vessels and muscular systems relax. When working with ceremonial doses of cacao, blood flow can increase by up to 30%, meaning that more blood (life force energy) is moving through your body and nourishing all of your systems.
Explore More Pure Ceremonial Cacao
Not sure where to start with cacao?
That's okay, you can try them all! Our best selling pure ceremonial cacao kit allows you to try all four of our 100% single origin cacaos!