Vibrant Vitality
Activate your vibrant vitality with this enhanced cacao that contains a full daily dose of maca (3400 mg) and ashwagandha (450mg) in a single cup. Your cells will soak up this nourishing blend made with regenerative Colombian cacao which is the perfect delivery mechanism for bringing these healing herbs deep into the body's tissues.

With regular consumption you may notice an inner glow emanating from you :)
Ingredients
Cacao Beans from Colombia, Maca from Peru, Ashwagandha from India, Cacao Butter from Tanzania, Turmeric from India, Black Pepper from Indonesia. Note, Ashwagandha is not recommended during pregnancy.
Mood
Exuberant, Spirited, Strengthening
Best For
Hormone Support & Stamina
Flavor Profile

Malt, Earth, Cream (these are tasting notes, not ingredients)
VOLUME DISCOUNTS
Mix & match any of our cacaos. Automatic discounts applied in cart for 3 or more one pound bags or 2 or more five pound bags.
Contains 20 servings, $2.50 per serving
Regular price

Sale price

$50.00

Unit price

per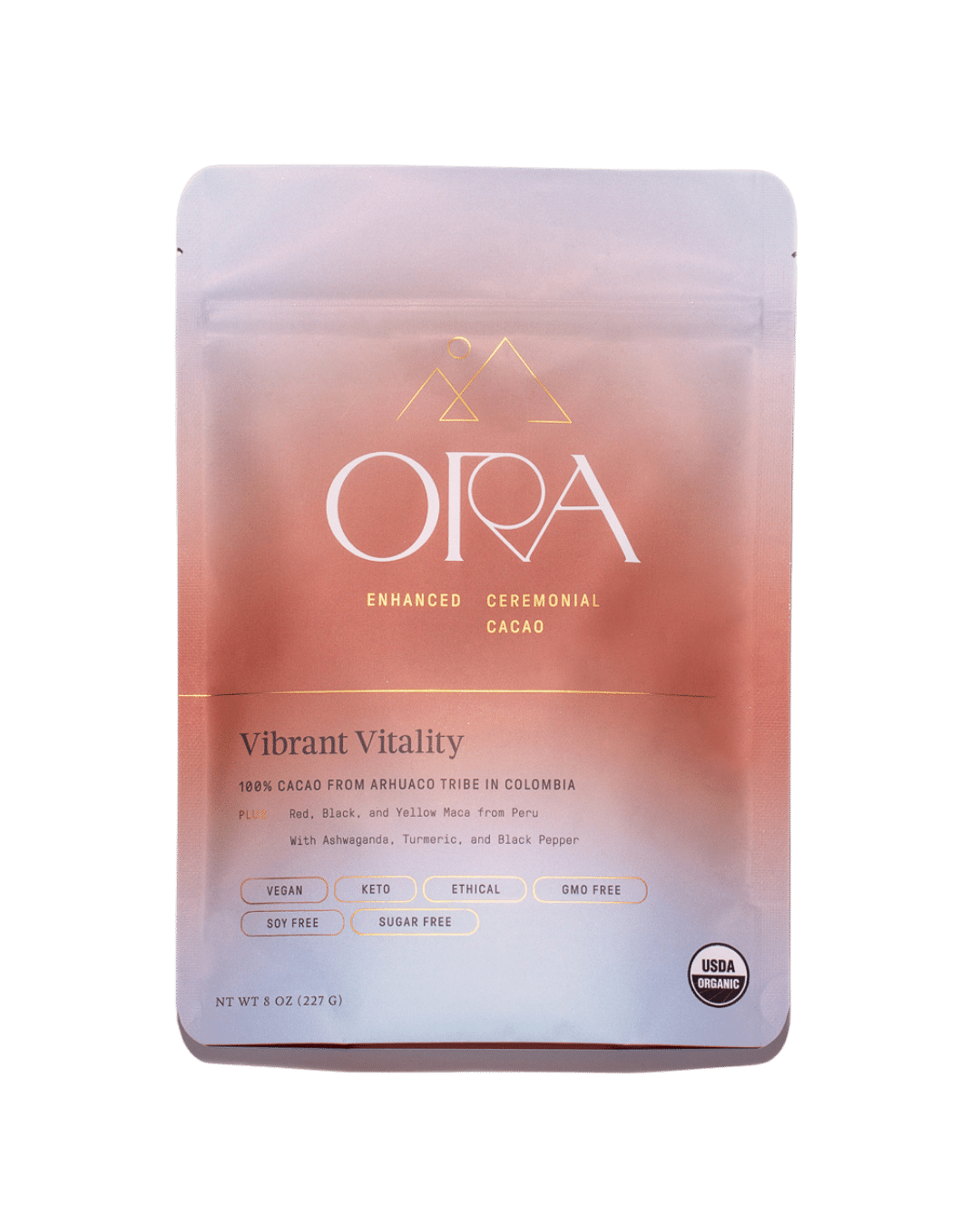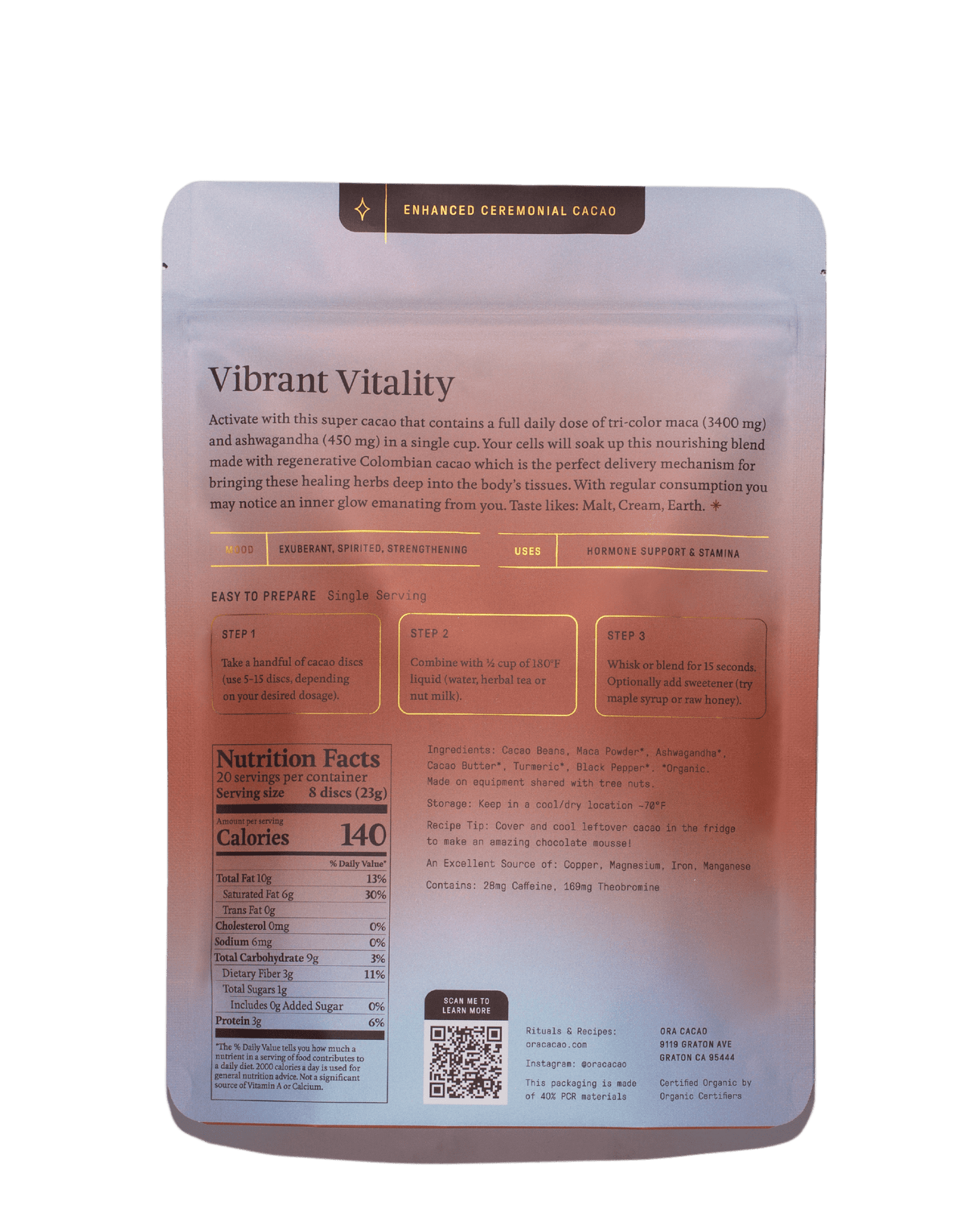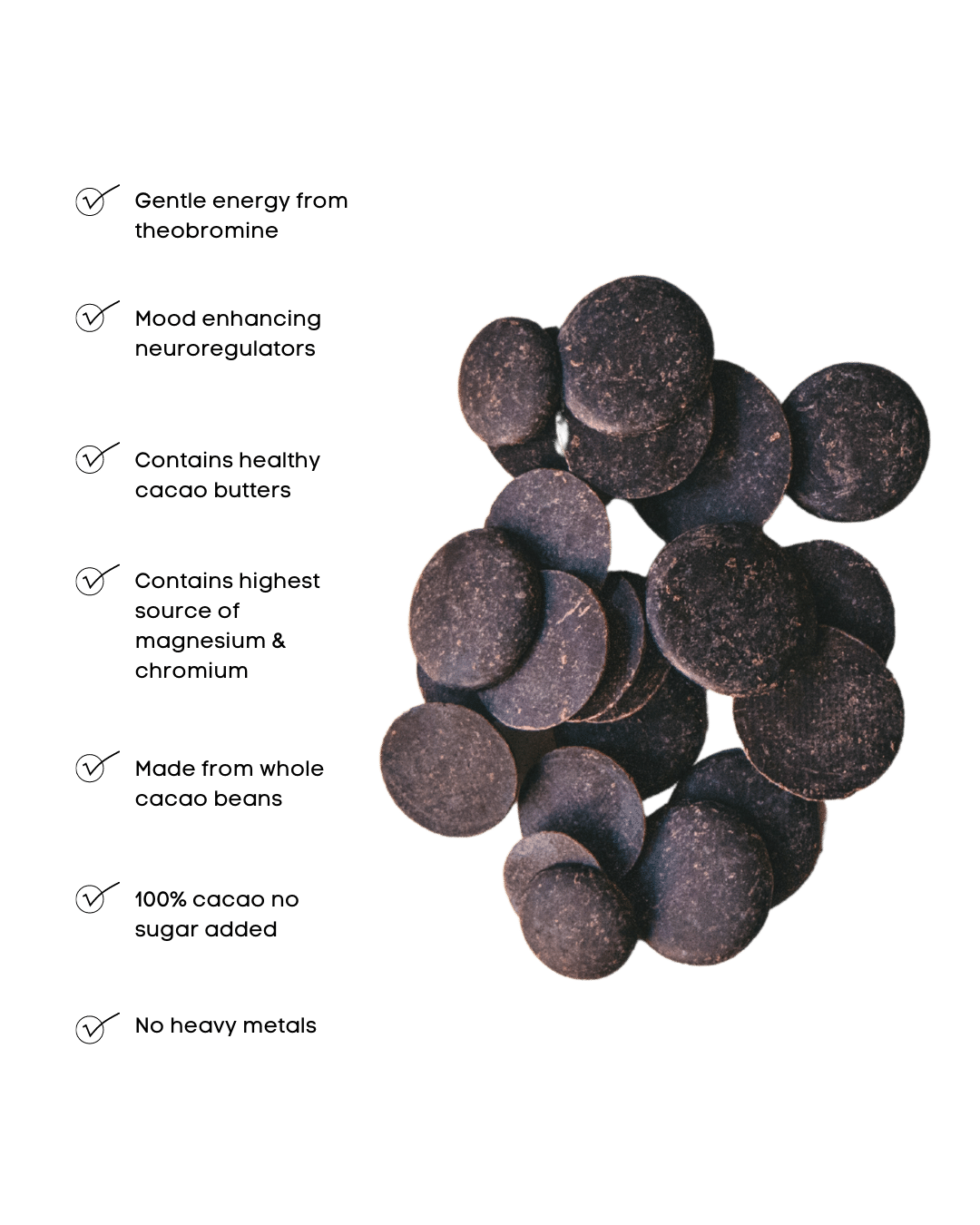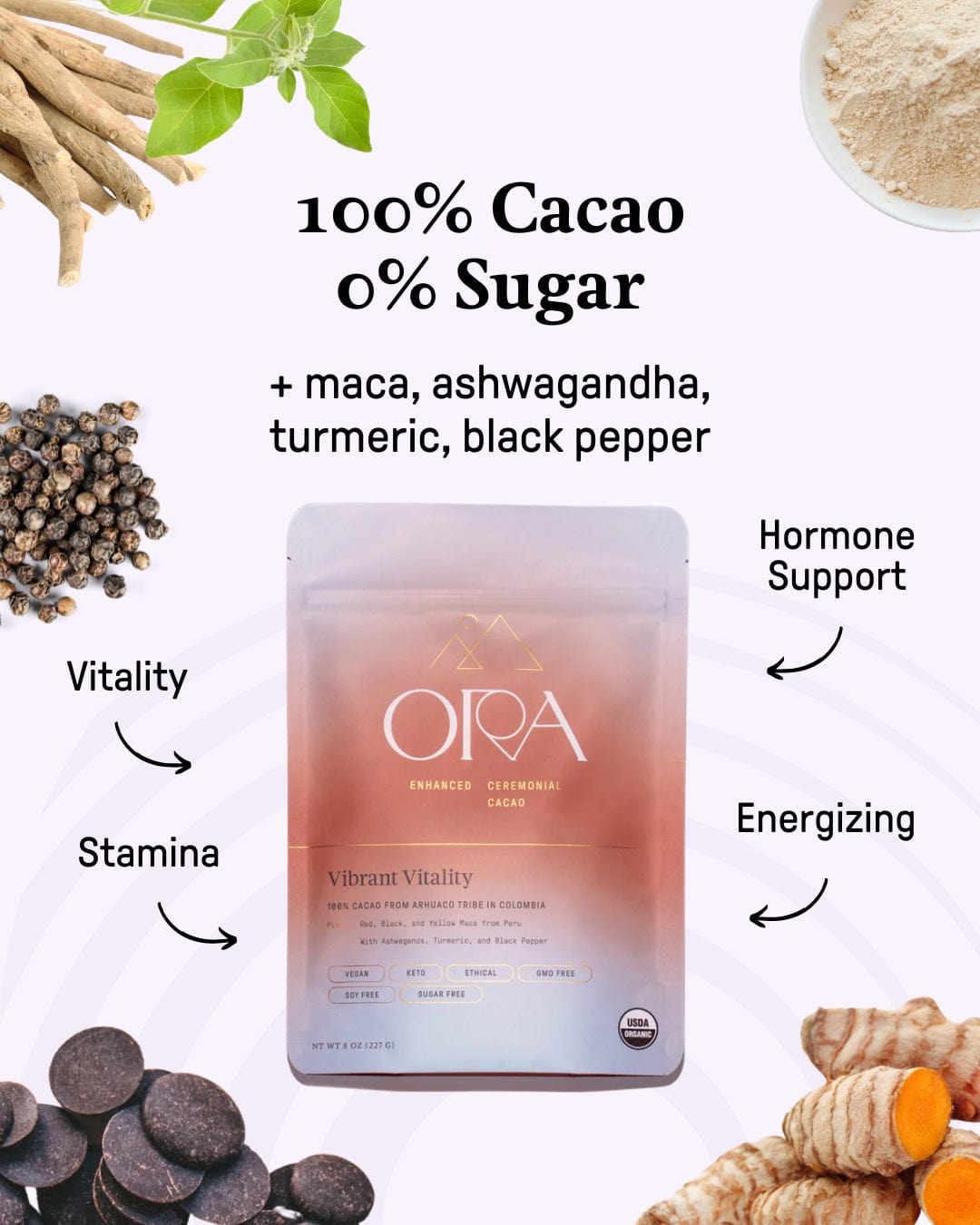 Ingredients
MACA FROM PERU
A Peruvian radish that has been used by indigenous Andean peoples for thousands of years for increased stamina and balancing of hormones. Our maca is grown on a spring-fed family farm at 13,000 feet elevation and is a custom tri-color blend of red, black, and yellow varieties. One cup of cacao delivers a full daily dose of maca (3400 mg)!

ASHWAGANDHA FROM INDIA
An adaptogenic Aryuvedic herb that rejuvenates the body system, especially helpful for relieving stress, anxiety, depression, and inflammation. It also has reported anti-cancer benefits and can increase muscle mass and strength while lowering unhealthy cholesterol. One cup of this cacao delivers a full daily dose of ashwagandha (450mg)! Note, Ashwagandha is not recommended during pregnancy.

CACAO BUTTER FROM TANZANIA
There is so much Maca and Ashwagandha in Vibrant Vitality that we augment the already-present cacao butter for a maximally smooth texture. Cacao butter is one of the healthiest fats, rich in antioxidants to fight inflammation, as well as fatty acids that support brain & heart health. Cacao butter also moods and lowers blood pressure; reduces the risk of cardiovascular disease, diabetes, and stroke; and serves as the carrier vehicle that delivers all ingredients into your cells and tissues.

TURMERIC FROM INDIA
A relative of ginger, the "Golden Spice" has potent anti-inflammatory properties and helps to alleviate depression, diabetes, cancer, and viral infections. It may also be effective in delaying or even reversing many brain diseases and age-related decreases in brain function, as well as arthritis.

BLACK PEPPER FROM INDONESIA
Black pepper enhances the absorption of curcumin in turmeric by up to 2,000%. It also contains the bioactive compound piperine, which has been shown to enhance the activity of digestive enzymes in the gut, relieve nausea and headaches, and reduce inflammation. It may also improve memory and cognitive skills, as it has effects on brain-derived neurotrophic factor (BDNF), a powerful protein that stimulates new brain cell production.

Vegan
Keto
Ethical
GMO-Free
Soy-Free
Sugar-Free
Regenerative
Vegan
Keto
Ethical
GMO-Free
Soy-Free
Sugar-Free
Regenerative
Formulated as an ideal coffee substitute, to replace the jitters and crashes with natural stamina.
My interest in maca in particular came from my days of bicycle touring, when I realized that I could travel longer distances with less effort on days that I had my Mighty Maca chocolate bar, and notably more so than any of my other chocolate bars. As I formulated this enhanced cacao, I really pushed the limits and added complementary superfoods to ensure that you get full daily doses in an everyday cup of cacao. The resulting enhanced cacao is even more potent than my original Mighty Maca chocolate bar!
Strengthening, supportive, and awakening by connecting to the root, sacral, and solar plexus centers!
The Ashwagandha in this enhanced blend can help create security and safety within as this important herb is known to help with anxiety, depression, exhaustion, and poor muscle tone, helping the root center feel supported. The Maca can help rejuvenate reproductive health; it can even increase sexual desire for women and aid in hormonal balance for both sexes awakening and activating the sacral center. The turmeric and black pepper can bring aid and stimulation to the solar plexus center by improving digestive functions and even liver functions!
Do you want a better way to eat superfoods?
We created enhanced cacaos as a convenient daily way to help you get important superfoods in your diet. Cacao is a vasodilator and cardiac stimulant, so when you ingest cacao with superfoods, they are absorbed deeper into your tissues because of the increased circulation. So you get both the benefits of cacao, an amazing superfood on it's own, and all of these additional ingredients. We also brought our expertise in sourcing to get the highest quality superfoods available.
Preparing Your Cacao
Step 1

Take a handful of cacao discs (use 20-25 discs, depending on your desired dosage).

Step 2

Combine with 1 cup of 180°F liquid (water, herbal tea or nut milk).

Step 3

Whisk or blend for 15 seconds. Optionally add sweetener (try maple syrup or raw honey).
Delicious

I alway love this Cocao! It's my morning royal to open the heart!

Loving this harmonizing blend!

I have tried a number of Ora Cacao's enhanced offerings, and hold Vibrant Vitality dear! It nourishes my feminine energy in a way that feels uniquely warm. My body loves the adaptogens, thank you! This cacao has held my heart through life transitions with graceful strength that is approachable and able to meet my everyday needs.

Another winner blend!

This is at the top of the list for favorite Ora blends! Unusual, yet sweet and earthy. This one is even wonderful without water or plant based milk but just melting in the mouth. A great pick me up and tastes oh so good!

Omg!!

I cannot express how grateful I am that I ran across this cacao on Instagram! I am experiencing more energy and better sleep than I have had in a long time! Thank you!!

Love the nourishing ingredients

Vibrant vitality has turmeric, black pepper, ashwaganda as an enhanced cacao. The flavor is like described, malt and cream. I love enjoying this when I have a day that requires some extra exuberance or when I want to enhance my own vitality!

Love this for a boost in the morning

I have found this blend to give me an added boost when I have a busy day ahead. It's absolutely delicious and feels very nourishing to my nervous system. Highly recommended!

Wonderful

Love to start my day with this beautiful cacao

Amazing Cacao Elixirs

I love Ora Cacao - the flavor and quality are amazing. It makes the most beautiful and yummy healing elixirs. Vibrant Vitality and Tantric Rose are my favorites. It always arrives quickly too. This cacao is a must-have in my home apothecary!

Probably my favorite!!

When I first tried this one in the sample pack I wasn't sure I liked it. It was a suprise to me. But by the end of my cup I absolutely loved it! It's now probably my favorite and most reached for flavor. So I bought a big bag!
Reviews Loaded
Reviews Added
Answers to Frequent Health Questions
What are the Nutrition Facts?

Due to smaller disc size, please note serving size is 20-25 discs
Is Your Cacao Tested for Heavy Metals?

Our cacao has been lab tested for safety and meets comprehensive EU standards for absence of heavy metals. In particular all our cacao tests below detectable thresholds for lead, and all our cacao tests below government mandated limits for cadmium. We actually test for 68 different heavy metals, but our focus here is on lead and cadmium as those are of most public discussion.

So why is our cacao so much safer than other chocolate products out there? 

Let's look at cadmium specifically. Cadmium uptake is dependent on many variables, including cacao genotype, cacao tree age, and other trace metals present in the soil. Notably, the more depleted the soil is of other beneficial minerals such such as Zn, Ca, Mg, and Mn, and the younger the trees are, the higher the Cadmium uptake is. Because our cacao sourcing is focused more on quality than quantity, it is not farmed as intensively as the majority of global monoculture cacao production. Rather, our trees tend to be older and within polyculture agroforestry systems with rich soils - all factors that reduce cadmium uptake. The permaculture practices that our farmers use also regularly replenish the soils. So really, cadmium uptake has a substantial amount to do with farm management practices.




It's also interesting to note that cadmium is first accumulated in leaves, then cacao pod shells, then cacao beans. Proper handling and shelling of cacao beans can remove the husk, which has a higher concentration than the edible part, the bean. We take great care in our cracking and winnowing process to remove as much shell as possible, which also reduces cadmium concentration in the final product. With our recent factory upgrade, we actually acquired a cracker and winnower that is a state of the art German design, used in the chocolate industry for over fifty years! This results in the cleanest cacao nibs possible.
Are there any Contradindications?

We believe cacao has potential as a holistic therapy for depression, and we have encountered the effects of cacao during depressive episodes to be uplifting and stabilizing. It is our sincere hope that someday cacao could become a part of a clinically proven method for treating depression naturally, or as a method for assisting people in reducing their dependence on powerful pharmaceuticals. 




Because cacao is contraindicated with SSRIs, many people struggling with depression cannot take cacao because of the SSRI's they are medicating with. There is potential that people may be able to partially reduce their SSRI medication intake and supplement with ceremonial cacao, however medical studies on this need to be done to establish a verifiable protocol. If you are a medical practitioner and would like to collaborate with us on such a study, please let us know! Because pharmaceutical SSRIs have many side effects and ceremonial cacao is beneficial in so many other ways, we are hopeful that such a protocol would greatly benefit the lives of many people struggling with depression and other mood disorders.
What Minerals Does Cacao Have?

Consuming cacao can replenish minerals vital to our body. Magnesium is chronically deficient in the majority of western diets, and cacao is the highest naturally occurring source. Magnesium is used in all key brain functions, especially memory and concentration. It is also beneficial for the function of the heart, acting to relax blood vessels and decrease strain. Besides magnesium, cacao is also the highest naturally occurring source of chromium, and also high in copper, calcium, manganese, zinc, sulfur, iron, and phosphorus.
How Does Cacao Affect Mood?

Many ceremonial cacao lovers report a notable impact on their mood. There is substantial science that explains why ceremonial cacao is so beneficial. Pure cacao contains beneficial neurotransmitters and neuro-modulators already present in our brain. It also contains reuptake inhibitors that block the pathways that our bodies normally use to break down and recycle these beneficial mood altering molecules, so the good mood lasts for longer. In the long term, regularly working with ceremonial cacao can have therapeutic health benefits, including creating new neural pathways that change our daily experience to include more joy, love, and connection.

Top Molecules in Cacao

Some of the top mood altering molecules in cacao include:

Anandamide is commonly referred to as the bliss molecule, and is associated with the runner's high effect. It is actually the first endocannabinoid to be discovered, and it is well known for moderating pain. Cacao also has N-linoleoylethanolamine, which is the reuptake inhibitor for anandamide.

Phenylethylamine (PEA) - Helps with excitement, alertness, attention. Gives the perception of time slowing down.

Norepinephrine is commonly referred to as the joy molecule. It is both a neurotransmitter and a hormone,

Serotonin - Helps with wellbeing, and creates resistance to stress. Cacao also has MOA inhibitors that inhibit reuptake of serotonin.

Dopamine - Gives feelings of motivation and pleasure. Cacao also has MOA inhibitors that inhibit reuptake of dopamine.

Due to these molecules and many others, when you drink ceremonial cacao you may feel expansive, blissful, connected to self and/or others, inspired, connected to your intuition & vision, connected to spirit, grounded, emotions arise, and the movement of stuck energy. You can also experience increased blood flow, mood elevation, and a more expanded state of consciousness. Cacao is a vasodilator, meaning your blood vessels and muscular systems relax. When working with ceremonial doses of cacao, blood flow can increase by up to 30%, meaning that more blood (life force energy) is moving through your body and nourishing all of your systems.
Explore More Enhanced Cacao
CONNECTED TO THE SOURCE
FROM FARM TO CUP
Our hearts have been opened and our lives have been transformed through intimate contact with cacao, one of nature's greatest healing medicines. We hope in our relationship with you, you will receive many gems of wisdom compiled from countless hours in the field, that we hope will deepen your practice, connection and life.
Learn More
Not sure where to start with Cacao?
That's okay, you can try them all! Our best selling enhanced ceremonial cacao kit allows you to try all four of our sugar free enhanced cacaos!