Why Firefly Cacao? What makes Firefly unique? 
As pioneers of Enhanced 100% Cacaos, our Enhanced Cacao collection are 100% pure ceremonial organic cacaos combined with the highest-quality superfoods, herbs, spices, and healing plants sustainably sourced from around the world. 
By inventing this category in the ceremonial cacao market, here's how our Enhanced Cacaos provide superior health benefits and flavor/drinking experience for you:
Each ingredient is finely ground into the cacao for up to 24 hours, turning the cacao into a carrier vehicle that

 

transports optimal health benefits deep into your cells.
The cacao and the healing ingredients are so finely ground together at a particle level that they

 

become one silky smooth cacao & the tongue registers the collective ingredients as one. This means better flavor, texture, AND richness.
Because of our unique manufacturing process with custom equipment, these Enhanced Cacaos

 

increase the bioavailability of each of the special life-boosting ingredients.
Our customers can take advantage of our regenerative and high-quality sourcing model for the best ingredients worldwide. They no longer have to source many expensive ingredients on their own.
Before Firefly, nobody made 100% cacao with superfoods and other healing ingredients. We were the first ceremonial cacao company to combine cacao and healing ingredients together

 

DURING the grinding process with custom professional equipment, rather than at home after the cacao has already been made (the latter of which cacao lovers were forced to do before Firefly!)
This means more powerful health benefits for you than you could get by combining the same ingredients on your own in your cup!
Additionally, our customers save on expensive sourcing costs of additional ingredients while enjoying a superior flavor and texture in our innovative cacao discs! (Try stirring any powder in water, as compared to a frothy cup of Tantric Rose Blossom, and you will understand what we mean!)
Let's talk more about the benefits of each of our Enhanced 100% cacaos, how to decide which one is best for you, and the experience of each cacao!
Superior Health Benefits & Flavor
All of our cacaos are ceremonial grade, organic, vegan, paleo, keto-approved, sugar/GMO/soy/gluten-free, and child/slave-labor free!
Our cacao beans are grown by farmers who are passionate about what they do and extremely knowledgable about cacao cultivation, resulting in some of the highest quality beans on the planet!
And the additional ingredients in our Enhanced Cacaos are sustainably sourced from around the world from trusted partners.
After the beans and ingredients arrive at our chocolate forge in Northern California, our unique cacao crafting process begins. We grind the ingredients into the cacao for 24+ hours, turning the cacao butter into a "carrier vehicle" for the additional healing ingredients.
This greatly increases bioavailability and makes for one powerful Enhanced Cacao for your health, happiness, and wellbeing.
This process also creates the silky smoothness that you would not be able to find anywhere else. The particles are ground so finely together that the tongue tastes the different ingredients as one delicious cacao!
Crafted To Support Your Intentions
Enhanced 100% Cacaos are a great choice for you if you want to:
amplify specific intentions

 

and

 

create extra potent ceremonies
resolve & heal certain bodily needs

 

(e.g.,

 

stamina,

 

immunity,

 

circulation) and/or

 

energetic needs

 

(grounding,

 

heart-opening)
receive the healing benefits of diverse and potent healing plants from around the world

 

(e.g., medicinal mushrooms, Moroccan rose petals, Peruvian maca root)
take advantage of our high-quality sourcing model and unique cacao-crafting process to

 

better support your health.
Meet The Enhanced Cacaos
Excellent For: Strength, immunity, stamina, envigoration, hormone support
Feels: Exuberant, Spirited, Strengthening
Tastes Like: Malt, Earth, Cream
Ingredients: Connected Colombia (base cacao), Ashwagandha, Turmeric, Black Pepper⁠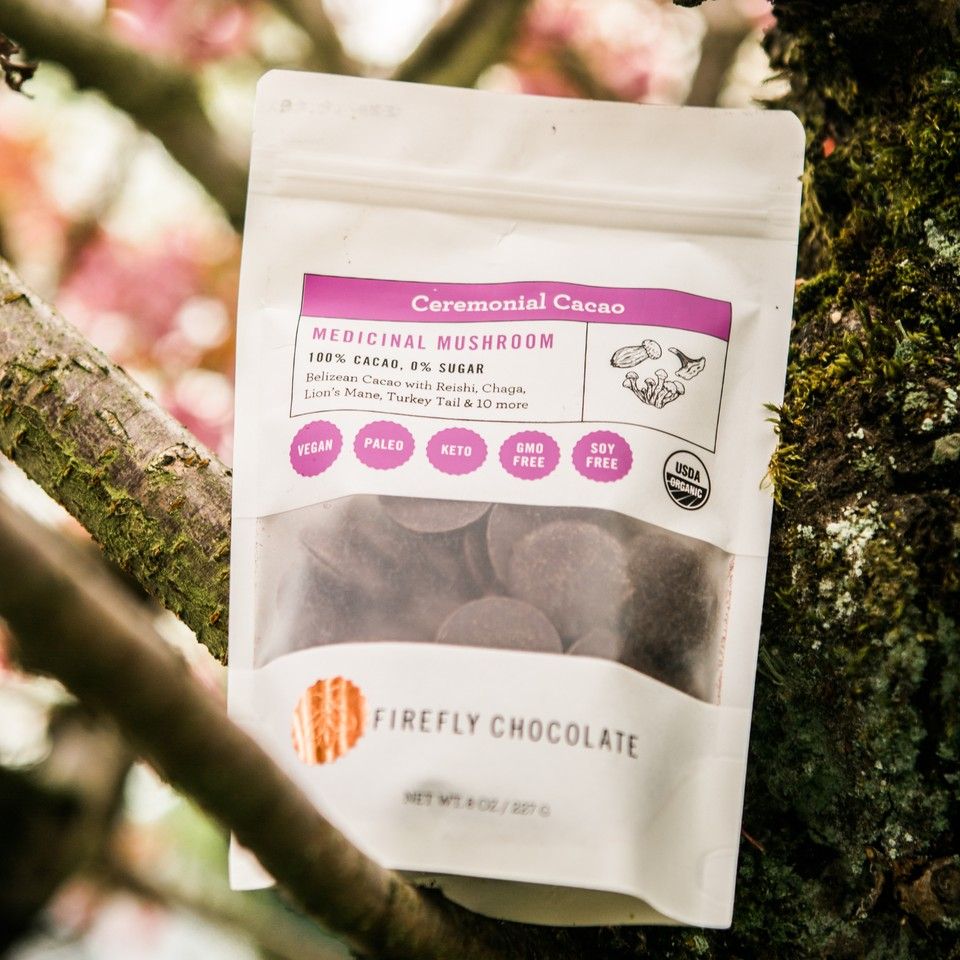 Excellent For: Immunity, healing, nourishment, grounding
Feels: Calming, Nourishing, Grounding
Tastes Like: Stone, Oak, Brie
Ingredients: Boundless Belize (base cacao), 11 different mushroom blend⁠
Excellent For: Heart-opening, sensuality, emotional support, intimacy
Feels: Potent, Sensual, Heart Opening
Tastes Like: Rosé, Lavender, Bergamot
Ingredients: Thriving Tanzania (base cacao), Rose, Damiana, Licorice Root, Orange Peel⁠

Excellent For: Circulatory Support, Community, Warmth, Motivation
Feels: Celebratory, Elevating, Warming
Tastes Like: Chili, Cinnamon, Cardamom
Ingredients: Glowing Guatemala (base cacao), Cinnamon, Cardamom, Ginger, Cayenne
⭐⭐⭐⭐⭐ Five-Star Review
🌍 Vibrant Vitality 🌍
"Happy Heart! Every morning I have a cup of Vibrant Vitality & feel uplifted & inspired as I start the day. I feel a big difference when I don't drink my cacao in the morning. Vibrant Vitality is one of my favorites for sure!" - Anna K.
⭐⭐⭐⭐⭐ Five-Star Review
🌶️ Oaxacan Spice 🌶️
"Delicious! This cacao was rich, warm, spicy and fragrant. Definitely my favorite that I have tried so far. I have been enjoying it with some of my meditations." - Mariah S.
Order Enhanced Cacaos
Vibrant Vitality 100% Ceremonial Cacao Drink
Tantric Rose Blossom 100% Ceremonial Cacao Drink
Medicinal Mushrooms 100% Ceremonial Cacao Drink: Buy Now 
Oaxacan Spice 100% Ceremonial Cacao Drink
How Customers Are Feeling
⭐⭐⭐⭐⭐ Five-Star Review
🍄 Medicinal Mushroom 🍄
"Best Addition to my morning ritual ever!!! This was my favorite so far. it's rich and calming, an amazing addition to my morning coffee. Makes a healthy start to each day. This is truly healing and life giving. This Cacao is such a blessing." - Heather W. 
⭐⭐⭐⭐⭐ Five-Star Review
🌹 Tantric Rose Blossom 🌹 
"Beau-ti-ful! I've been working with the cacao for about two weeks now & I'm so amazed. I had attended a cacao ceremony before, but being able to bring it into your home, you can create an even closer relationship. In simple terms, drinking the cacao feels like a liquid hug. Extremely heart opening and healing!" - Dominique J.
---
How can we support your cacao journey? We'd love to hear from you! Reply to this email, reach out on social media, or click on the bottom-right-hand corner of our website for help.
With Love, Gratitude, & Cacao,
Jonas & The Firefly Family
Join Us! Firefly Community - FREE Weekly Virtual Cacao Ceremonies
Tuesdays at 1 PM PST (via Zoom)
Cacao brings us together and creates authentic group connections. Come experience cacao with people from around the world in a safe welcoming space. Click here to sign up and see more details! 
---
Let's Be Friends!
Text +1 (844) 695-0043 for a more intimate cacao conversation.  
You'll get access to the Firefly Family, our private circle where we share exclusive promotions, cacao ritual insights, exciting product updates, and more.