You've probably had some amazing rituals inside over the past year...
...but how about taking your cacao ritual outdoors?
With summer approaching, it's the perfect time to take your cacao out into nature.
Below, we share with you a special cacao ritual—with one of our most popular cacaos!—to take to your favorite place outside.
We trust that it will strengthen your sense of connection to everything, which is how the amazing farmers behind Connected Colombia Pure 100% Cacao see the world.
In the stunning landscapes of the Sierra Nevada Mountains of Colombia, the Arhuaco tribe lives inextricably connected to the planet.
They see humanity as an integral part of Earth, rather than as separate beings, and they view themselves as stewards of Mother Earth.⁠ 
To them, caring for Earth is caring for all of existence.⁠
So, how might we cultivate such awareness of interconnectedness? Try this cacao ritual with Connected Colombia Pure 100% Cacao.
P.S. — To learn more about the incredible story behind this soothing and harmonizing cacao, see our recent blog post!
What You'll Need
For this nature ritual, we recommend Connected Colombia Pure 100% Cacao.
*Prepare your drink with slightly more cacao and water than usual, so as to make a bigger overall drink.
As part of the ritual below, we invite you to make an offering to the land, as the Arhuaco do, hence the extra cacao to abundantly share with nature.
Living at what they consider the heart of the Earth, the Arhuaco maintain planetary balance and harmony by making ritual payments, or pagamento, to the Earth in gratitude for her services.
These offerings are elaborately constructed in meditative states over the course of hours! But don't worry if you don't have hours, this ritual is a shorter version for our modern society's pace ;-)
After you prepare your cacao, here's what you'll need:
Thermos or other cacao vessel to carry your cacao
Magical and meaningful mug/cup
Notebook and pen: to take notes, journal, or draw
Water: for your personal hydration; to care for your body, consider drinking water after your cacao rituals
Gratitude: to the land for receiving you and holding you in ritual today.
Offerings: tobacco, herbs, cacao, other offerings; bring this with you
Optional: camera and anything else for your personal comfort (sunglasses, hat, blanket, towel)
Your Ritual For Connecting With Nature
As Rogelio Mejía, Governor of the Arhuaco, said, "It's important that human beings become aware that we are just another element of nature. We are not nature's masters. Nature is the master of our lives. Therefore we should change our attitudes towards living within nature."
The purpose of this ritual is for you to feel more deeply connected to nature. It begins with stillness and observation and transitions into the comfort of interconnection and relaxation. Let's dive in!
Find Your Sit Spot
When you set out on your walk, ask to be guided to the perfect "sit-spot" for your ritual.
Walk until you find the perfect spot to drink cacao. This will be your "sit-spot."
Put your phone on silent mode and airplane mode to prevent interruption of your sacred space and attention.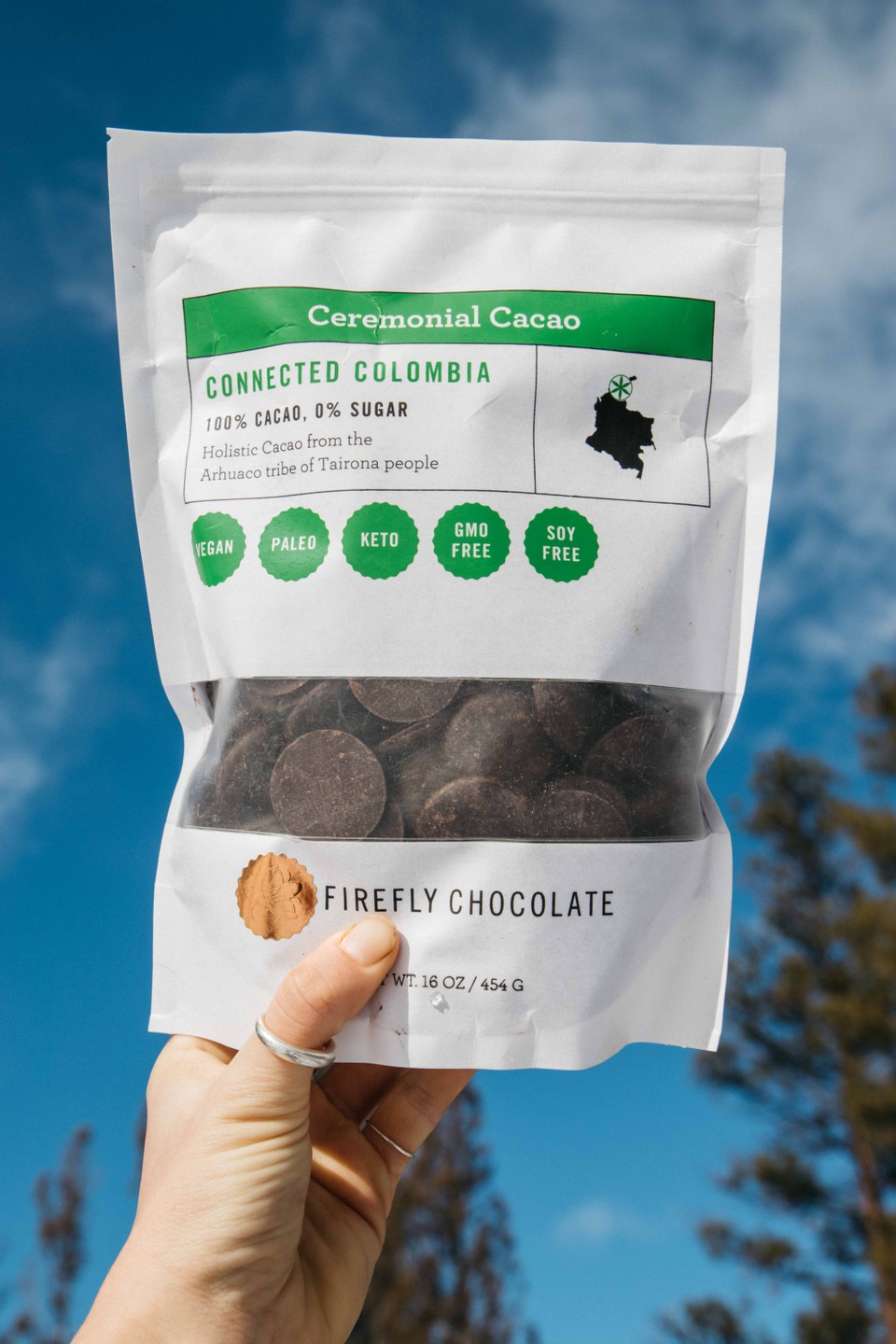 Connect With The Land
Before you sip your cacao, create a vivid mental image of the environment in your mind, with your camera, or your notebook. This will be your "before" snapshot; we will create an "after" snapshot after your ritual.
Next, make your offering to nature with your cacao by pouring some back onto the earth in gratitude. Or, offer anything else you brought for Mother Earth.
For the next 30 minutes, stay seated at your spot and slowly drink your cacao. 
Become still in your mind and body. Sit quietly. Look around with a soft gaze and gentle smile.
Notice how nature is coming to life around you, especially after the first 15-20 minutes. If you become more still, does nature begin revealing herself more?
Observe your environment.

 

Take note of every color. Feel every texture. Take long deep breaths. See all the animals, insects, and life forms.
Notice the symbiotic relationships around your sit-spot.

 

Become curious not just about the individual plants and creatures you observe, but about how they relate.
See how many relationships you can perceive.

 

It's not about finding answers; rather, develop a good list of questions!
Without moving from your spot and creating a disturbance, create your "after" snapshot

 

(mental image of the environment in your mind, with your camera, or your pen/notebook.)
What are you noticing now that you didn't notice before?

 

Although you are looking at the same environment as "before", are you feeling the magic of seeing it anew "after" your ritual? How has Connected Colombia guided you to be more infused into life?
If you feel inspired and guided, feel free to focus in on an object that caught your attention

 

over the last 30 minutes, such as a flower, tree, animal, or view.
Surrender With Gratitude
To close your ritual and fully relax, find a place to lay completely flat

 

and receive the support of the ground below you. Look up at the sky or trees and let go of everything that stands in the way of your joy and presence. How does it feel to be an integral aspect of the web of life? 
If you have any cacao or offerings left, consider sharing with the land. You may also make a "pagamento" to Mother Earth with gratitude, your awe, your undivided presence, or your recognition of the beauty of life.
Get To Know Connected Colombia
This Pure 100% Cacao was a recent addition, but quickly became one of our most popular cacaos. It is grown as a sacred medicine by the Arhuaco tribe in the spectacular Sierra Nevada mountains of Colombia.
Like silk wrapped around your heart, drink this cacao to strengthen your inner sense of connection. 
Feels
Luxurious, Cozy, Nourishing
Useful For
Soothing, Harmonizing, Connecting
Tastes Like
Coffee, Bark, Grass 
Customers Are Feeling Connected
⭐⭐⭐⭐⭐ Five-Star Reviews
"Absolutely Divine. Truly a calming experience. The flavor of this cacao is absolutely delicious. It definitely highlights and enhances my meditation in the morning. I also made a cup to relax the other evening. Definitely worth the try." - Amanda C. 
"Innocence, Love, & Lightness. Connected Colombia is a really beautiful cacao... incredibly pure, light-infusing, and brings so much love and innocence into my experience... Thank you for its lightness. And how the tribes infuse it with their divine, earth-integrated, non-dual wisdom is a lovely and much-needed blessing too. Thank you for bringing it in, Firefly! :)" - Christiene R
 "Thankful. I love that this is very grounding for me. I feel more calm and at peace when I take Connected Colombia. I often take this when I want to connect with my higher self and a higher power. Love love this." - Thivya K. 
"Heart Medicine from the heart of the Earth. I absolutely LOVE this Cacao. I know my Colombian ancestors rejoice whenever I sit and pray with a cup. 
It brings so much joy to my heart...I highly recommend this medicine." - Natalie Z.
How can we support your cacao journey? We'd love to hear from you!

Reply to this email, reach out on social media, or click on the bottom-right-hand corner of our website for help with personalized cacao recommendations and anything else you need!
With Love, Gratitude, & Cacao,
Jonas & The Firefly Family
​P.S. - ❄️ We are now on a summer shipping schedule. All cacao is sent out with ice packs and recycled + recyclable insulation!
📅 Orders ship Monday through Wednesday.
🕰️ Wednesday @ 1pm PST is the last order time to make the above shipping window, so that we can reduce the likelihood of your cacao being delayed in a hot warehouse over the weekend!
🧠 Please be mindful if you are ordering during a heatwave.
🏡 Bring your package inside as soon as you can after it is delivered!
📲 We recommend opting in for text message delivery notifications; to do this, enter your phone number at checkout and you will receive updates on your cacao!
Join Us! Firefly Community - FREE Weekly Virtual Cacao Ceremonies
Tuesdays at 1 PM PST (via Zoom)
Cacao brings us together and creates authentic group connections. Come experience cacao with people from around the world in a safe welcoming space. Click here to sign up and see more details! 

Let's Be Friends!
Text +1 (844) 695-0043 for a more intimate cacao conversation.  
You'll get access to the Firefly Family, our private circle where we share exclusive promotions, cacao ritual insights, exciting product updates, and more.